Bonney Plumbing and Electrical team up for 5-Star Service in El Dorado County
August 30, 2019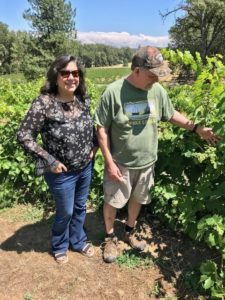 Bonney Plumbing teamed up with Bonney Electrical for 5-Star Service in the small picturesque town of Somerset in El Dorado County. Valued Bonney customers, Carey and his wife Anna Maria, live on a beautiful countryside where they own 20 acres of Sierra Nevada's finest wine grapes, Cabernet Sauvignon, Syrah, Vigoner & Zinfandel. Carey said, "We're truly blessed to be able to live here and to contribute to the success of the area of local wine makers."
Carey retired from the Lawrence Livermore Laboratory after 37 years, his wife Anna Maria, is also an electrical engineer at the lab who telecommutes from home. They're starting a small boutique winery and tasting room and needed a back-up automatic generator in case their power gets shut down by PG&E. They also wanted a generator installed for the main house that would power the in-law quarters.
They're "Living The Dream" in Somerset, California. They don't want that dream to become a Nightmare if PG&E shuts down their power. It happened in February. The power went out due to an ice storm and they went without electricity for 90 hours. Carey purchased a "cheapo generator" as he put it, but it wasn't capable of powering the winery, in-law quarters, and the well. The couple didn't want to be in that precarious situation again.
"We shopped around and wanted to hire a company that is qualified and competent. That's when we chose Bonney to install the Generac generators along with the two water heaters. Go big or go home, right?" Casey told us.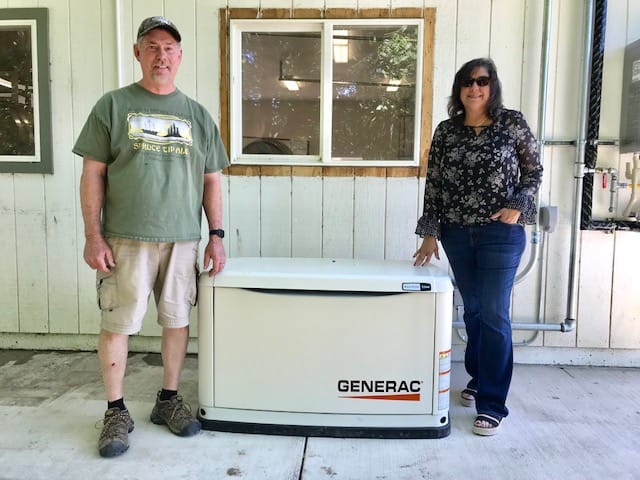 Bonney Electrical Field Supervisor Bob McGinnis added, "The whole place will be covered thanks to the two Generac generators. The main house, the tasting room, and the in-law quarters. At $5,000 a wine barrel, they can't afford the barrels to go bad".
Carey had a boyish enthusiasm for the work Bonney was performing. He was observing over their shoulder and asking if they needed anything, he almost seemed ready to pitch in at a moment's notice.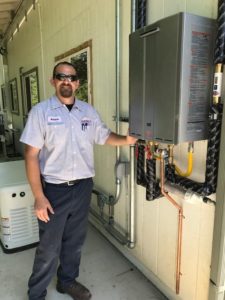 Bonney installed a Rinnai Tankless Water Heater for the tasting room and a Bradford White gas water heater for the in-law quarters. The old AO Smith water heater was making banging and popping sounds and was on its last legs…they replaced it with a new Bradford White 40 gallon gas water heater for the in-law quarters. Made in America and built to last. Anna Maria said, "We try to buy American-Made whenever possible".
They were both thoroughly impressed with Bonney's quality craftsmanship, attention to detail, and the safety precautions Bonney displayed. "The guys from Bonney are top-of-their-craft workers and the safety culture is impressive". Carey added, "We're engineers, we notice this stuff."