Sacramento Hot Water Recirculation Pumps
Experience the freedom instant of hot water.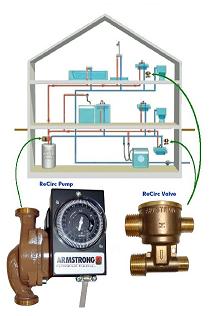 Do you have to wait for what seems like forever to get hot water in your kitchen or bathroom? Installing a hot water recirculation pump will give you instantaneous hot water when you turn your faucet, tub, or shower valve on. Many people use recirculation pumps along with their tankless water heaters to have on-demand, endless hot water.
Recirculation Pumps and Water Conservation
The average home can waste as much as 12,000 gallons of water a year waiting for the hot water to get to their fixture—not to mention the extra utility costs to heat that water.  Hot water recirculation pumps save water, save money, and boost your home's water conservation efforts. This can also help you improve your home's retail value and market appeal. Call the experts at Bonney to learn more about how much you can save by installing a hot water recirculation pump today!
A Closer Look at Hot Water Recirculation Pumps
There are two types of hot water recirculation pump systems available for your home, a complete hot water recirculation system and a retrofit system. The complete hot water recirculation system has a dedicated hot water line that runs from your water heater to each fixture then back to a pump at the water heater creating a loop. This is a true hot water recirculation system and the most energy-efficient.
The retrofit system has a pump connected to the hot water outlet side of the water heater and a crossover valve installed at the furthest fixture, sometimes two depending upon the layout of your home. This allows hot water to be pumped into the cold water system which is called stacking. Though not as efficient as the first system, it is a less expensive installation and gives you similar results.
Looking for an instant hot water tap at your sink for coffee and tea?  Bonney installs instant hot water sink units as well.
Bonney Sacramento-Area Plumbing Service
For more information on any of these hot water systems, give the professionals at Bonney a call today. Our Sacramento-area experts are here to help you upgrade your home and enjoy instantaneous hot water!