Save Water and Money
Are You Wasting 10,000 Gallons of Water a Year?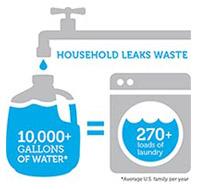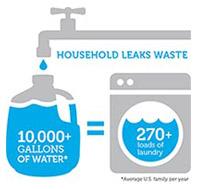 Water Conservation is extremely important now more than ever before. The average household has leaks that account for more than 10,000 gallons of water wasted every year – the amount of water needed to wash 270 loads of laundry*
Household leaks can waste more than 1 trillion gallons of water a year nationwide – equal to the annual household water use of more than 11 million homes
Ten percent of homes have leaks that waste 90 gallons or more of water per day
Leaky toilet flappers, faucets, and shower heads are common and inexpensive to fix
Small irrigation system leaks can waste about 6,300 gallons of water per month
Fixing minor leaks can save homeowners 10% off their water bills
Eliminate leaks, save water and money
We inspect toilets for leaks – Saves 30-50 gallons a day
We inspect showers for leaks – Saves 10 gallons a day
We install aerators on faucets – Saves 1.2 gallons a day
Plus: water meter and pressure valve check too!
* Source: US Environmental Protection Agency – Office of Waste Water Management, Grunfos Comfort Systems (manufacturer of water recirculation pumps), Water Use It Wisely 100 Tips: California Department of Water Resources and the Association of California Water Agencies