Water Conservation: Save Water and Money
Discover how the smallest tune-ups can have the biggest reward.
The Sacramento-area professionals at Bonney are here to help homes save water, save money, and protect the environment with our water conservation services. Are you ready to save?
---
Are You Wasting 10,000 Gallons of Water a Year?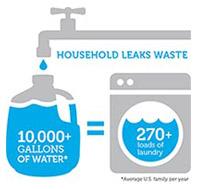 Water Conservation is extremely important now more than ever before. The average household has leaks that account for more than 10,000 gallons of water wasted every year – the amount of water needed to wash 270 loads of laundry*
Household leaks can waste more than 1 trillion gallons of water a year nationwide – equal to the annual household water use of more than 11 million homes
Ten percent of homes have leaks that waste 90 gallons or more of water per day
Leaky toilet flappers, faucets, and showerheads are common and inexpensive to fix
Small irrigation system leaks can waste about 6,300 gallons of water per month
Fixing minor leaks can save homeowners 10% off their water bills
Bonney offers water conservation inspections to find where your home is wasting water. This can save you money every month on your utility bills and help save California's ecosystems.
Eliminate leaks, save water and money
We inspect toilets for leaks – Saves 30-50 gallons a day
We inspect showers for leaks – Saves 10 gallons a day
We install aerators on faucets – Saves 1.2 gallons a day
Plus: water meter and pressure valve check too!
Custom Greywater Systems
If you want to take water conservation to the next level, Bonney also offers custom greywater systems. Greywater systems repurpose water from laundry, showers, and sinks for gardening or landscaping instead of washing it into your sewer system. These installations are perfect for homes on a raised foundation. Greywater systems are not a "quick and easy" solution, as they are engineered specifically for your home by our professionals, but they offer serious savings and environmental conservation. They could also raise the retail value of your home and improve its appeal to other eco-friendly residents of the greater Sacramento area.
Bonney: Your Sacramento-Area Water Conservation Experts
When you are ready to start saving water and money, contact the local professionals at Bonney! We proudly serve homes and businesses in and around Sacramento. Our service areas include Carmichael, Roseville, Sacramento, Citrus Heights, Folsom, Rancho Cordova, Gold River, Fair Oaks, Vacaville, Natomas, La Riviera, Rosemont, and beyond! Check out our available coupons to save even more on our water conservation plumbing services. You can make your water conservation inspection appointment here online, or give us a call for more information. We look forward to helping your home and the environment today!
* Source: US Environmental Protection Agency – Office of Waste Water Management, Grunfos Comfort Systems (manufacturer of water recirculation pumps), Water Use It Wisely 100 Tips: California Department of Water Resources and the Association of California Water Agencies