Sacramento Toilet Repairs, Replacements & Installations
It's time to find your flow.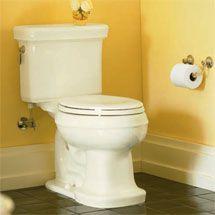 Saying that the toilet is a place "close to home" isn't just a pun, it's a statement of fact. The toilet may be the most personal destination in your home. It goes without saying problems with your toilet are some of the worst mishaps that can happen in your home. Luckily, you can rely on Bonney Plumbing for all of your toilet repair, replacement, and installation needs.
Our professionals handle all of your residential and commercial plumbing needs, from high-efficiency toilets and bidets to commercial urinals.  We are experts on High Efficiency and Eco toilets for water conservation too!
Bonney Plumbing is the place to call for prompt service on your leaking, clogged or broken toilet.
Broken toilet? No problem for our highly trained plumbers. From toilet tank repair and leaking toilets to valve replacements, fixing leaking seals and wall-mounted; there aren't any problems we can't solve.
Have a clogged drain? Click to learn about our residential and commercial drain cleaning.
Toilet Replacements & Installation
We provide same-day, full-service professional plumbing installation of new toilets, urinals, bidets and bidet seats.
When problems require replacing your old toilet with a new one, our plumbers can handle it on the spot. At Bonney Plumbing, we highly recommend quality Kohler and Toto brands and we carry replacement toilets on our service vehicles to eliminate the need for a follow-up service call.
Rebates are available! Most water districts have rebates available when you replace an old, inefficient toilet with a new, high-efficiency, low water consumption model. Contact your water district for rebate details and instructions.
High-Efficiency Toilets
At Bonney Plumbing, we feature high-efficiency, low water consumption toilets in a wide range of styles from quality brands such as Toto, Kohler, Sloan, and many others.
About 30% of all water used in our homes is used for flushing. Conventional toilets can use as much as 6 gallons of water per flush. With an average life span of 15 – 20 years, it makes sense to install a High-Efficiency Toilet (HET) for the water-saving and dollar savings alone.
In the 1990′s, drought conditions motivated water providers to implement water conservation programs in California. In these programs, older 3.5 and 6.0 – gallons per flush toilet fixtures in residences were replaced with 1.6 – gallons per flush models.
Single flush High Efficiency Toilets (HETs) use 1.28 gallons per flush. The latest dual flush HET offered by Bonney will use an average of 1.1 gallons per flush.
Today, most water districts still offer High-Efficiency rebate programs to homeowners and businesses. Ask your local water district about rebates available to help you replace your old, inefficient for a new, high-efficiency model.
Bonney Plumbing: Toilet Service in Sacramento
When you are ready to get a new toilet installed, repaired, or serviced in the greater Sacramento area, the professional plumbers at Bonney are here for you. We proudly serve homes and businesses in Roseville, Sacramento, Folsom, Rancho Cordova, Placerville, Fair Oaks, Natomas, Vacaville, and beyond! You can make your appointment right here online, or even schedule a virtual plumbing consultation to get started today.