History of Bonney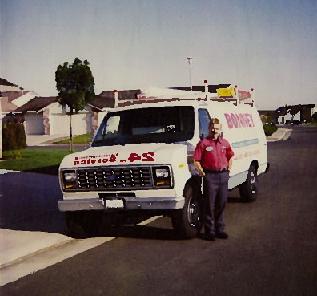 It is hard to find someone who has lived in the Sacramento area and is not familiar with the red and white Bonney vans or the catchy 444-0551 jingle of Bonney Plumbing, Heating & Air. Back in 1970 when Mark Bonney got his first taste of plumbing at the age of 15 while helping a friend install PVC piping in a mobile home park, he had no idea of the future success this experience would bring.
During his junior year at Anderson High School, Mark pursued his desire to be a plumber. He got a job with a plumbing company in Redding through a Work Experience class at his school. He started out as an assistant – washing vans, delivering parts and cleaning the shop, but by the age of 16 he was ready to be put in a company van as a plumber. He had phenomenal success as a service and repair plumber.
Mark joined the plumbers union in 1976 and learned the new construction trade for residential and commercial plumbing. In 1978, he became a licensed contractor and began his own business R.M. Bonney Plumbing; and in 1990, the first Bonney service van was put into operation (we now have over 100). The company grew with an emphasis on service and repair plumbing and continued to offer new construction services as well.
By 1996, a full service drain cleaning division was added, which included trenchless sewer line replacement. This also began the Mark and Candace team picture era. They placed their photo on every service van and became widely recognized throughout the Sacramento area. When talking to people about their business, they receive a lot of comments stating, "Oh! I've seen those vans driving around."
In 2008, the Bonneys added a Heating and Air Conditioning division, specializing in service, repair and system replacements. They have always prided themselves on providing top-notch technicians, superior products and exceptional customer service, which has allowed them to have serviced thousands upon thousands of satisfied, loyal customers and were recognized by the Sacramento Business Journal in 2010 as the best employer in Sacramento for their business size. This reflects Mark and Candace Bonney's long time philosophy that happy employees create happy customers. "If our employees are treated well, then our customers will be treated well."
Bonney has always been active in the community and through its Bonney Cares program which gives back to many local charities. The next logical step for Bonney was to align with the Sacramento Republic FC in 2014 to help bring a USL Pro team to the thriving community. This partnership included the naming rights of the new soccer facility at Cal Expo which was dubbed Bonney Field between 2014-2017. This partnership made sense because of the strong connection that Bonney already held with the community. The company has always been dedicated to creating a positive, family-like atmosphere for employees and customers alike. The aligning of Sacramento Republic FC and Bonney continued to strengthen that bond.
Bonney has come a long way from the first service van in 1990. While Bonney continues to grow and expand its service areas, it still maintains the founding ideas from Mark and Candace Bonney; providing excellent customer service, unparalleled quality craftsmanship and ensuring customers and employees are happy. Bonney is excited to continue striving to better the community that it has been strongly rooted to for the past 30 years.