History of Bonney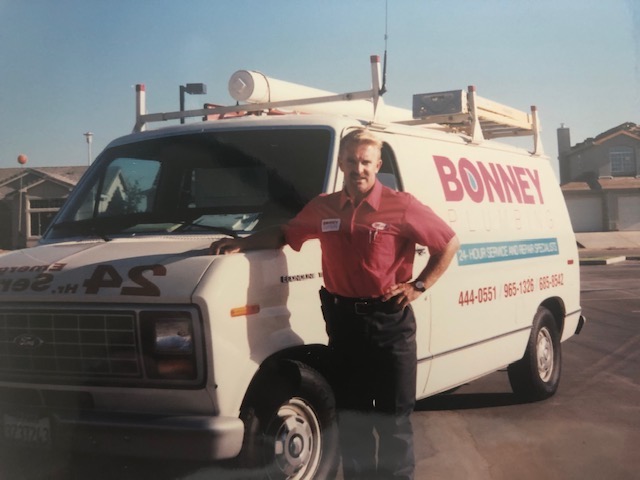 It is hard to find someone who has lived in the Sacramento area and is not familiar with the catchy 444-0551 jingle of Bonney Plumbing, Heating & Air. Back in 1970—when Mark Bonney got his first taste of plumbing at the age of 15 while helping a friend install PVC piping in a mobile home park—he had no idea of the future success this experience would bring.
During his junior year at Anderson High School, Mark pursued his desire to be a plumber. He got a job with a plumbing company in Redding through a Work Experience class at his school. He started out as an assistant – washing vans, delivering parts, and cleaning the shop. By the age of 16, he was ready to be put in a company van as a plumber. He had phenomenal success as a plumbing service and repair technician.
Mark joined the plumbers union in 1976 and learned the new construction trade for residential and commercial plumbing. In 1978, he became a licensed contractor and began his own business R.M. Bonney Plumbing; and in 1990, the first Bonney service van was put into operation (we now have over 100). The company grew with an emphasis on service and repair plumbing and continued to offer new construction services as well.
The Addition of Bonney Drain Cleaning Service
By 1996, a full-service drain cleaning division was added, which included trenchless sewer line replacement. This also began the Mark and Candace team picture era. They placed their photo on every service van and became widely recognized throughout the Sacramento area. When talking to people about their business, they receive a lot of comments stating, "Oh! I've seen those vans driving around."
The History of Bonney Heating and Air Conditioning
In 2008, the Bonneys added a Heating and Air Conditioning division, specializing in service, repair, and system replacements. This came with an emphasis on providing top-notch technicians, superior products, and exceptional customer service, which has allowed us to service thousands upon thousands of satisfied, loyal customers. To combat the air quality challenges Sacramento faces, Bonney has since extended our HVAC service to create an Air Quality division.
Bonney Electrical and Commercial Service
Over the years, Bonney found that many heating, AC, and plumbing concerns intersected with electrical problems. To provide the highest possible quality in service and care, Bonney added an Electrical division. This allows us to safely provide the comprehensive home services that our customers require. With this expansion of services, Bonney also began serving large-scale commercial projects, allowing us to meet the needs of Sacramento-area businesses.
Bonney Updates: Continuing to Grow
Over the years, Bonney has worked to channel our success back into the community through the Bonney Cares program. In alignment with our commitment to serving the community, Bonney also continues to expand our offerings to meet the growing needs of the Sacramento residents. Some of our recent service additions include:
We also redesigned our website for easier mobile access and quicker site speed. Bonney has come a long way from the first service van in 1990. While Bonney is aggressively growing organically and through acquisitions within California, we still maintain the founding ideas from Mark and Candace Bonney; providing excellent customer service and unparalleled quality craftsmanship while ensuring customers and employees are happy. Should you be interested in selling your business to partner with Bonney through acquisition, please reach out to us at corporatedevelopment@bonney.com. We are excited to continue striving to better the community that we have been strongly rooted in for the past 30 years.