Bathtub & Shower Sacramento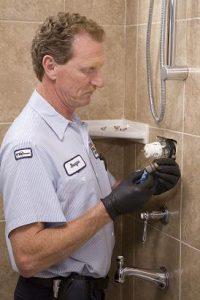 Bonney Plumbing offers complete bathtub and shower installation, replacement and repair. We install Jacuzzi® spa tubs and Kohler Whirlpool baths for a luxurious bathing experience as well as bathtubs and showers during your bathroom remodel. We also do handicap (ADA compliant) tub and shower installations so family members can safely live in and enjoy their home.
Have a clogged bathtub or shower drain? Click here to learn about our tub and shower drain cleaning.
Installation & Replacement
If you need a new bath tub or shower installed in an existing bathroom or new bathroom addition, call on Bonney's experienced plumbing team for prompt and professional installation.
Thinking of replacing a damaged or outdated bathtub or shower? Call Bonney Plumbing first to learn more about our affordable replacement options.
Bathtub & Shower Repair
The drip, drip, drip of a leaking tub faucet or leaking shower fixture is a constant reminder to fix it. Call Bonney Plumbing – you will love the savings on your water bill!
For bathtub repairs, shower repairs, leaking shower fixtures and bathtub faucet repair, let an expert plumber from Bonney Plumbing fix the problem. Whether it is a dripping shower valve or leaking bathtub faucet, we can fix it. With water meters being installed throughout the greater Sacramento area, it is important to save water and save money. A leaking faucet can waste as much as 15,000 gallons a year, and if it is a hot water leak it will also increase your utility bills.
Do you like the look of your original faucet? At Bonney Plumbing, we specialize in repairing older faucets and three handle tub shower valves. We provide full service bathroom repairs and no plumbing job is too big or too small.
Low Water Pressure
Low water pressure in your tub or shower fixture? Our experienced plumbers can identify and solve your low water pressure problem.
We charge by the job… so you know the cost before we start!