Bonney Plumbing set to attend the Make-A-Wish Wine & Food Fest as a Title Sponsor
April 21, 2015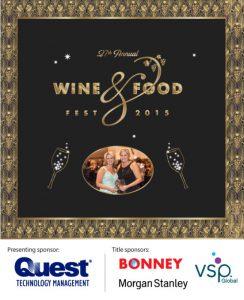 All of us here at Bonney Plumbing, Heating & Air are extremely excited to be joining Make-A-Wish at their 27th annual Wine & Food Fest on Saturday, April 25 as a title sponsor. We were able to attend as guests last year, which began our strong partnership with the Make-A-Wish foundation.
Last year, the Make-A-Wish foundation introduced the Bonney team to Riley Simmons, a brave 10 year old who loved playing soccer and was diagnosed with brain cancer. We immediately recognized her indomitable spirit and wanted to celebrate by providing her a very special VIP experience on Bonney Field with the Sacramento Republic FC. This special event prompted Bonney's decision become a partner with Make-A-Wish and bring them into our Bonney Cares program.
This year, the Bonney team will be working closely with the Make-A-Wish foundation to help bring wishes to life for courageous children. We are thrilled to be able to work with a local foundation to help bring smiles to the faces of the community we serve. We are continually inspired by all of the stories we hear and are honored to be able to make these wish experiences come true.
The Wine & Food Fest is a great way to start the year and help Make-A-Wish with their mission to grant wishes to children in our local community. It is an elegant wine and food tasting affair, featuring 120 of the finest wineries, breweries, eating establishments, silent auction and live music; the second portion of the night includes a sit-down dinner, an exciting VIP live auction, a live wish reveal to a local child from our community, and a moving program featuring many wish stories that will connect guests to the Make-A-Wish mission. Over 1,500 people attend each year, including nearly 700 partners and community leaders. The event will be located at the Sacramento Convention Center, doors open at 5pm.
Join us and Make-A-Wish for a night of celebration and reflection on the mission of granting wishes to several deserving children.
If you would like to learn more about our Bonney Cares program please visit www.bonney.com/bonneycares