Riley Simmons Soccer Day – A 10 Year-Old Girl Who Overcame Brain Cancer Will Help Bonney Welcome the New Bonney Field and the Tradition of Soccer in Sacramento
June 18, 2014
SACRAMENTO, Calif. (June 18, 2014) – On June 20, 2014, Bonney will give ten-year-old girl a very special VIP experience with soccer, ending with a surprise walk onto the field with the Sacramento Republic FC team at the new Bonney Field at Cal Expo. Bonney CEO, Jimmy Crabbe', wanted to further the company's tradition of community involvement by supporting the new USL Pro soccer team, Sacramento Republic FC, and the youth events that will be taking place at Bonney Field.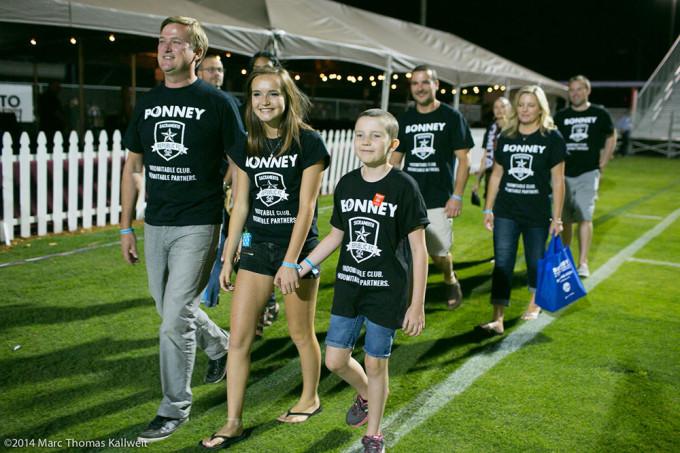 In this work, Jimmy has met with many families Bonney serves in the community. One story especially touched his team when they learned of a ten year-old girl who was saved through soccer. Young Riley Simmons was a competitive athlete and a good soccer player. It was on the field that her parents and coach noticed Riley's movements were increasingly impaired. Through testing and doctor visits, they learned the grave news that Riley was diagnosed with brain cancer. As you can imagine, the emotional and physical toll this took on the entire family.
Riley bravely underwent brain surgery to remove her tumor and endured many difficult chemotherapy sessions. Through every step of the way, it was Riley who proved to be the rock for the family. Now a year later, Riley is actively going through therapy and relearning key motor and speech functions. Riley is hoping that one day, she will compete on the soccer field again.
Bonney recognized her indomitable spirit and wanted to celebrate her courageous fight against cancer. On Friday, June 20th, Riley, her parents and two sisters will accompany the Bonney team in opening the new soccer stadium, Bonney Field. Riley and her family will experience a day of VIP treatment starting at the Bonney facility and finishing at Bonney Field.
Jimmy Crabbe' stated, "Riley embodies the spirit of an indomitable city. Always steadfast and positively looking ahead, she continues to make incredible strides forward. Bonney's passion is giving back to the community in which it starts. We can't wait to see the smile on Riley's face when she walks proudly onto the field. Her story, her strength, and her perseverance inspires us all and we are honored to accommodate this special moment in her life."
About Bonney:
Founded in 1978, Bonney has been serving families in the Greater Sacramento region and beyond. Bonney believes in supporting the community and providing superior quality solutions for homeowners' plumbing, drain, sewer, water quality, heating and air conditioning needs. For over 35 years Bonney established a rock solid reputation for their unmatched expertise and first-rate customer service. For more information, please visit www.bonney.com.