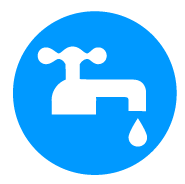 Orangevale CA Plumbers
Reliable, experienced, certified premier plumbers
We charge by the job, so you know the cost before we start.
Our plumbers are drug screened and background checked for your safety
Plumber Orangevale, CA
If you are in Orangevale, CA, then there is one plumbing service that is your best choice. That choice is Bonney. Our expert plumbers can handle any plumbing job, big or small. This includes leak detection, toilet clogs, toilet installation, hydro-jetting, water heater services, drain cleaning, and more. There is no plumbing job that we can't handle.
All of our plumbers are dedicated to making the plumbing experience as hassle and stress-free as possible for the client. That is why they are all certified and insured and have all been background checked and drug tested. You can trust that when a Bonney plumber comes to your door, you will get the absolute best workmanship and customer service available in Orangevale.
Water Heaters Orangevale
The water heater is an incredibly important part of any building. Hot water is a must in this day and age, and a malfunctioning heater can be incredibly frustrating. Luckily, Bonney plumbers are on the job, and they are the water heater experts in the area. Call us today to get a plumber to inspect, service, maintain, or install your water heater and keep the hot water coming.
Standard Water Heaters
A standard water heater is made up of a large tank. This tank not just stores water, but it also heats the water constantly so that it is ready to go when you are. If the hot water runs out, you will have to wait for it to refill and heat again. There are several types of standard water heater, and Bonney can work with them all. Call today for expert service and expert advice.
Tankless Water Heaters
Tankless water heaters, as the name would suggest, do not use or require a tank. They heat the water as it enters the buildings, so there is no worry that hot water will run out no matter how many people take showers. Tankless water heaters are a great option for a new installation because they are more energy-efficient and have a longer life. Call a representative at Bonney to discuss the pros and cons of purchasing a tankless water heater for your home or business.
24 Hour Plumber Services
Plumbing emergencies will not happen when it is convenient for you if such a thing exists for emergencies. That's why our plumbers do not follow a simple 9-5 workday. We have plumbers available all day and all night with our dedicated emergency line. There is no day of the year and no time of day when you will not be able to reach one of our dedicated plumbers. Plumbing problems need to be addressed quickly to avoid more damage, and Bonney plumbers wholeheartedly agree with this.
Plumbing Inspections
Investing in plumbing inspections is investing in the future of your plumbing system. Sure, it might cost some money upfront, but you will be able to save that money on potential repair bills from experiencing a plumbing disaster. Having an expert examine your system doesn't just mean that you could save money. It also means that you can have the peace of mind that comes with knowing your plumbing system is running at its best at all times.
Pipe Replacement
If you are in an older building or you know that your pipes have not been replaced in a long time, then yours might start to wear down, rust, and deteriorate. When this happens, you will need to have your pipes completely replaced for performance issues, but also for health and safety issues. Bonney plumbers are experts at repiping homes, which takes skill and proper preparation.
Drain Cleaning
Sometimes there are clogs that just won't go away. You seem to clear the with a liquid plumber or a snake, but they just keep coming back. If this is happening to you, then call the clog experts at Bonney. Not only will they remove the clog, but they will clean out the drain completely so that any substances or debris that were building up will be totally gone and the water will have space to flow properly again.
Sewer Line Service
The last thing you want is for your sewer lines to fail. In many cases, that means sewage backs up into your home and causes a terrible mess. Bonney plumbers provide inspection and maintenance, repairs, and replacement services of sewer lines. That way, you can be assured that your sewer lines are sending sewage out, and not directing back in.
Hydro Jetting
Hydro jetting is a great way to clean out the pipes of your building. It takes special equipment and special training, but it is very effective. A Bonney technician will attach a hydro jet to your plumbing system that pushes water through the pipes at very high pressure. This knocks down any buildup and scrapes the walls of the pipes to remove anything stuck on them.
Plumbing Products and Brands
While for most plumbing issues it's best to call a professional, there are some things that you can handle yourself. For those projects, Bonney offers a wide selection of products, tools, and equipment to help your job get done right.