Can Upgrading Your A/C Unit Increase Energy Efficiency?
July 6, 2018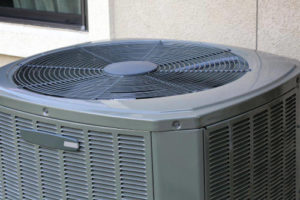 The short answer is yes – upgrading to a new A/C unit could increase the efficiency of your home and lower energy costs. However, it's not as simple as choosing any unit at random. Understanding the Seasonal Energy Efficiency Ratio (SEER) is one of the most important aspects of choosing a new HVAC system for your home.
What is the SEER Rating?
The SEER rating was developed by the Air-Conditioning, Heating and Refrigeration Institute (AHRI) as a universal efficiency measurement for HVAC systems manufactured in the U.S. The rating is determined by dividing the system's cooling output by its level of energy consumption during the average high-use season.1
The higher the rating, the more efficient the system. For example, upgrading to a 14 SEER from a 10 SEER could provide up to a 40 percent efficiency increase.2 Your system's SEER rating can be found on a yellow "Energy Guide" sticker.
Changes to the SEER Ratings
For more than 20 years, the Department of Energy (DOE) enforced one minimum rating for all units manufactured in the U.S. It started with 10 SEER in 1992 – the first year the requirement was applied – and eventually rose to 13 SEER, where it remained from 2006 until 2015.
As of January 2015, regional standards are considered when developing a minimum SEER rating due to the differences in HVAC usage by state. For instance, a 13 SEER may be sufficient in a state like Minnesota, but not for a state like Arizona, where homeowners are likely to run their HVAC systems more frequently and at higher levels.
SEER Ratings by Region
To develop more accurate minimum ratings, the DOE has divided the U.S. into three regions – north, southwest and south. California is in the southwest region. These are the current minimum ratings by region:
North – 14 SEER for packaged HVAC systems, 13 SEER for split systems
Southwest – 14 SEER for packaged and split systems
South – 14 SEER for packaged and split systems
The southwest region has an additional 12.2 energy efficiency rating (EER) minimum requirement for split systems that operate below 45,000 BTUs and 11.7 EER for those that work above. The EER rating calculates the efficiency of the system as if it were always 95 degrees outside.
Choosing the Right SEER Rating
Homeowners aren't bound by the minimum requirement – residential units with SEER ratings as a high as 26 are available.3 These ultra-efficient units cost more money upfront, but if you're planning on staying in your home for many years, the monthly energy savings could lead to a full return on investment over time.
Though, if you currently have an outdated system of 10 SEER or below, upgrading to a 14 SEER could reduce $100 in monthly cooling costs by up to $35.4
Another factor to keep in mind is the size of the unit and your space. No matter how energy-efficient your new A/C unit, if it's too small to cool a large home, it will work harder than it needs to and consume more energy. In general, one ton of cooling, or 12,000 BTUs, is sufficient for 800 to 1,000 square feet.
Other Ways a New A/C Unit Could Save You Money
Tax Credits – A $300 federal tax credit is available after purchasing a 16 SEER split system or 14 SEER package system.5
Fewer Maintenance Calls – A new air conditioning unit requires less overall maintenance, meaning fewer service appointments and more money in your pocket.
Save Money on HVAC Installation With Bonney
In addition to finding the right SEER rating for your home, it's crucial your new unit is installed correctly. The certified HVAC technicians at Bonney can help you determine the ideal system for your home and ensure it is installed with care. If you're ready to put a damper on high energy bills, schedule an appointment or click to learn more about our manufacturer rebates and financing. Our HVAC Experts in Concord and Sacramento are excited to work with you!
—
1 https://modernize.com/home-ideas/26822/understanding-the-basics-of-hvac-seer-ratings
2 http://time.com/money/4282312/central-air-conditioning-need-to-know/
3 http://www.webhvac.com/2016/01/highest-seer-rated-air-conditioners-of-2016/
4 https://www.energy.gov/sites/prod/files/guide_to_home_heating_cooling.pdf