Bonney Saves the Day for a Local Army Veteran in Need
June 21, 2018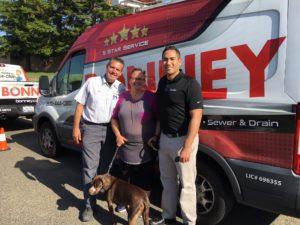 Bonney recently performed a good deed for a local Iraqi War veteran in Sacramento because Bonney cares…especially about our U.S. Veterans. We received word that a local Army veteran was down on her luck and suffering from the brutal heat in Sacramento. Her air conditioner, which was older than dirt, would just run and run and run, but it wouldn't cool the house the way it should. Her monthly energy bills were through the roof! The more Bonney learned about Sergeant Kristin Sketchley, the more Bonney wanted to help.
Kristen is a U.S. Army veteran who has been to Iraq twice, flying Medivac missions, treating soldiers and Iraqi civilians. She was a flight medic for 10 years. Saving lives was routine for Kristin, but one particular rescue earned her one of the Army's highest honors, a Soldier's Medal for Bravery. While holed up during a sand storm, Kristen and her team heard a helicopter and scrambled outside to see it trying to land. All of a sudden she heard bam bam bam. "We just hit the ground , we thought we were being attacked, we really didn't know what was happening. I'll never forget the sound of crunching metal just churning and turning."
The helicopter crashed and Kristen rushed to pull the pilot from the wreckage. "We didn't know what was going to happen. The external fuel tanks had exploded, ammunition was everywhere". Luckily, the pilot survived with only minor injuries. Due to her bravery and quick-thinking Kristen was awarded with the Soldier's Medal. Kristen was a hero that day. A day she'll never forget.
One of Kristen's biggest triggers is the heat in Sacramento. It reminds her of being over in Iraq. "The heat can be tough. When I'm hot and sweating it can sometimes take me back there. I get really anxious." Bonney wanted to save the day and be a hero for Kristen like she did for so many of her fellow service men and women. The plan was to replace her entire worn out HVAC system with a brand new one free of charge.
5-Star certified HVAC tech Kirk E. and Bonney HVAC manager Oscar Poort headed to Kristen's home to surprise her with the good news. At first she thought Bonney would diagnose the problem and just fix it with 5-star service. Once Bonney heard her story and her predicament there was no question…she needed a brand new HVAC system.
Kristen stopped using the air conditioner all together because it was becoming too expensive to run and it wasn't even cooling the house. She had huge energy bills! "I made myself a "redneck cooler"just to cool off the room I'm in." That's when Oscar said, "How about we just get proper sizing and lets just go ahead and replace all the equipment." Kristen immediately said, "Are you serious? I just thought Bonney was just going to come fix it". Oscar said, "We want you 100% comfortable. That thing has seen its best days and you need a new system. "
Right then, Kristen started to choke-up with emotion. "I thank you so much, this means a lot to me".
After composing herself Kristin went on to say, "It's an amazing thing Bonney is doing and it feels good to be appreciated. Sometimes, Veterans don't like to ask for help. We're taught to be self-sustaining and we can just fix it ourselves…it was really hard for me to ask for help."
Kristen was feeling thankful about having a climate controlled home with brand new HVAC equipment professionally installed by Bonney.
She went on to explain, "I definitely don't like heat, it reminds me a lot of being over there. I tend to get a lot more emotional and suffer more anxiety in the summertime. This is really going to help me out." Her voice started to crack with emotion and then she said, "I'm gonna put my sun glasses back on, I don't want anyone to see me crying."
They were tears of joy and appreciation.
Kristen was relieved to finally have a new air conditioner that would cool her home. She wouldn't have to suffer through another hot summer in Sacramento full of bad triggers . She proudly told the guys, "I was an Army flight medic for 10 years and loved my job! I flew around in helicopters and got to help my fellow injured soldiers and civilians".
Oscar asked, "So you took care of people, right?"
She cheerfully said, "I did. I did."
"Well, it's our turn to take care of you in our little way," Oscar told her.
"This is probably one of the nicest things anyone has ever done for me," Kristin replied.
It was an especially poignant moment. There were hugs all around. Bonney saves the day.