When it comes to the plumbing industry, it's definitely a man's world.  Just 1.1 percent of plumbers and those in related trades are women, according to data from the Labor Bureau. One woman squashing the stereotypes and taking a pipe wrench to the glass ceiling is Bonney's 5-star certified plumber Colleen S.  It's like having mom come over and work on your plumbing! She's a mother of two teenagers, watches anything sci-fi, and likes to cook for the family…her home-made taquitos are her specialty.  Colleen also knows her way around a pair of channel locks…which is actually her favorite tool in the Bonney tool bag.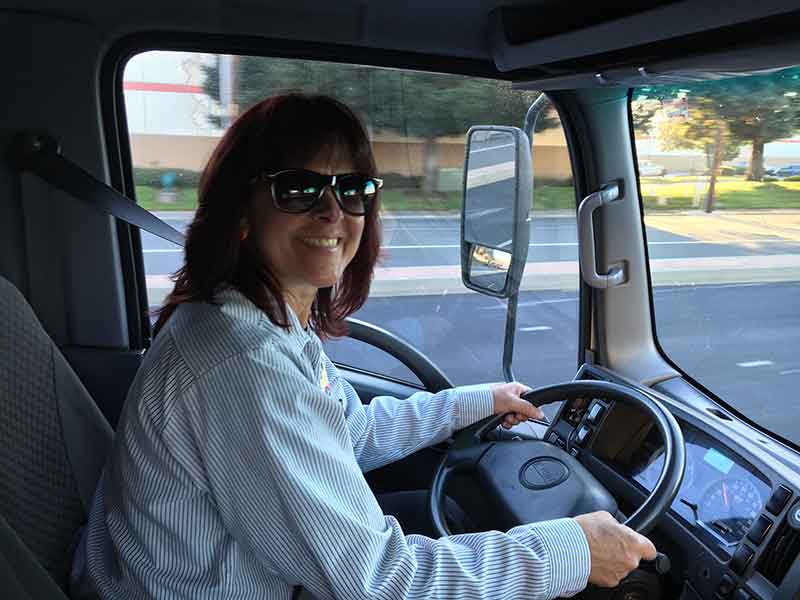 Her road to becoming a plumber started over a decade ago when she got a part-time job helping out in the office at a small plumbing company in Stockton. Her boss at the company had a dig job one day and asked Colleen if she wanted to come along. He was surprised she was willing to get her hands dirty and was impressed so much after the project was done he asked if she wanted to ride along and get some on-the-job training as a plumber.
Colleen was excited by the prospect of learning all she could about plumbing and told her boss, "If you're willing to teach me, I'm willing to learn".  Colleen had no problem going under the house, on the roof, or whatever needed to be done, and that's how her plumbing career got started.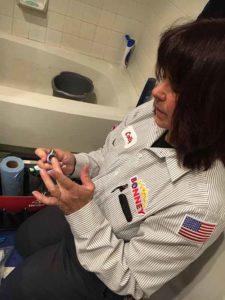 When she was younger, Colleen's dad, who's hobby was racing cars, was always in the garage tinkering with cars. She spent a lot of time with her dad in the garage watching him work, handing him tools, or just helping him gap the spark plugs. "I guess you could say spending time with my dad tinkering in the garage was my intro to tools". Colleen said.
Colleen has had a lot of positive and supportive comments from fellow Bonney employees and customers. "Most of the comments I get are positive", Colleen said. When she first came to Bonney Plumbing there were quite a few women that told her, "I'm so proud that you are representing us out there in the workforce doing the kind of work you're doing".
Colleen says she gets a lot of encouragement from her fellow Bonney plumbers. They've been  happy to have her ride along and learn "The Bonney Way".  "You can really see the magic in some of their performances, like Dustin H., he's like the energizer bunny. He also has the integrity, knowledge, and energy to move things forward to fix people's plumbing problems." Colleen said.
Even other plumbing companies have noticed. In fact, when she was stopped at a red light in a Bonney plumbing truck another plumbing company pulled up alongside her. The driver motioned Colleen to roll down the window and asked, "Are you a plumber?"  Colleen replied, "Yeah, I'm a plumber" and that's when he told her, "That's awesome!"  Then he gave her a big thumbs up!
Colleen has also impressed her Bonney customers. When she arrived at a customer's home in South Sacramento she was greeted warmly by Marciana T., who seemed at ease when Colleen introduced herself. Colleen slipped on her Bonney Booties so she wouldn't track dirt and debris in the house and went right to work to diagnose the plumbing problem. Marciana's husband had attempted to fix the problem but the toilet continued to leak. Toilet leaks can cause your water bill to be higher than normal so it's important to have them repaired as soon as possible. It was no problem for Colleen to diagnose the issue. The supply line to the toilet was leaking. Colleen had all the parts she needed in her plumbing truck, which we call Bonney's Warehouse on Wheels.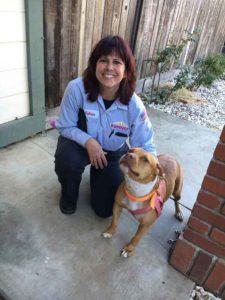 Colleen likes the freedom Bonney affords her to take as much time as needed with the customers. "I like to get to know the customer and spend a little time with them". She said. After she repaired Marciana's toilet leak, Marciana proudly boasted about "her son the firefighter". There was a Fire Department uniform hanging over the fireplace and big black boots propped on the mantle surrounded by little toy firetrucks.
At another Bonney customer's house that day Colleen had to tackle a troublesome bathroom sink clog. The sink was full of water all the way up to the top. Not a drop of water was draining. Roshema H. and her family couldn't use the sink due to the massive clog. Colleen said, "You kind of have to use the 'out of the box part of your brain' to do plumbing. It's not cut and dry. That kind of inquisitive mind is what helps get you through. You rely a lot on your imagination".
Colleen used her inquisitive mind, diagnosed the problem, and cleared the clog. Then she ran the water and said, "We want to see the 'swirly'". And that's exactly what happened! The water swirled around the sink and went right down the drain.
One of the benefits of hiring a female plumber include putting homeowners at ease. Women are typically the ones who meet with the technicians for home service calls. Having a woman show up at the door can put them at ease. When asked what she thought about having a female plumber, Roshema replied, "I think it's better than the guys, it's cool". A female plumber may also make a husband feel more relaxed about a plumber coming to the home while he's at work.
A female plumber may be a rare sighting, like seeing a triple rainbow, but hopefully women like Colleen can blaze a trail for women who'd like to work in the skilled trade industry. For women interested in the trade service industries, the career potential is unlimited.