Meet One of Bonney's Certified Premiere HVAC Technicians: Eddie R.
July 25, 2016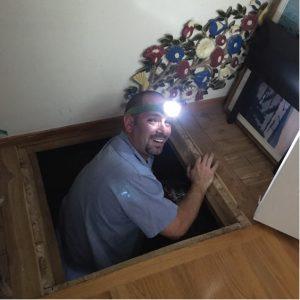 Bonney Plumbing, Heating and Air has the most knowledgeable, skilled and communicative service technicians in Sacramento. Eddie R. is just one of Bonney's premiere certified HVAC technicians. Eddie is also a military veteran, devoted family man, and one Tough Mudder.
Eddie was an aviation mechanic for the U.S. military, more specifically, an aircraft hydraulic systems specialist. He maintained and serviced military aircraft in the U.S. Navy. "It definitely helped me be mechanically inclined," he said. Every part of our military planes must be in perfect working condition before they fly. Eddie's job was to ensure the hydraulic and pneumatic systems worked as efficiently as possible. Everything from landing gear and brakes to weapons and flight controls depend on the proper care and repair performed by specialists like Eddie.
Eddie has brought his considerable knowledge of military aircraft to Bonney Plumbing, Heating and Air. Instead of working on flight controls and landing gear he is now servicing and maintaining HVAC systems to make sure they work as efficiently as possible for our loyal customers throughout the Sacramento area.
At a recent HVAC service call in Fair Oaks, Eddie strapped on his headlamp and eased himself down to the dark, dank, crawl space to diagnose a suspected pipe leak in the air conditioning unit. Cobwebs, spiders, and creepy crawlers were no match for Eddie…and neither was the leak!
A customer in Carmichael was having a minor issue with their air conditioning system. They recently signed up for the Bonney BAM Plan. Bonney's Automatic Maintenance (BAM) Plan features three annual tune-ups on air conditioning, heating and plumbing. The BAM tune-ups help keep home comfort systems operating at peak efficiency, which can reduce monthly utility bills, but they also detect potential problems that can be solved inexpensively before major damage occurs and you're left with no air conditioning in the middle of a heat wave.
To find out all the services included in the Bam Plan go here: https://www.bonney.com/bam/
Eddie took his time and methodically inspected the customer's air conditioning system. He went through the 50+ point inspection list which is designed to check if the air conditioning system is safe, and is operating correctly and efficiently.
He gives the customer options. Repair, replace, or do nothing. One customer said, "No pressure, no hassle, I like it".
Eddie isn't all about work and no play. He enjoys spending quality family time with his wife and three year old son. He's already got his son swinging the Louisville slugger bat! He and his wife are expecting another child in October.
Eddie has also coordinated team activities at Bonney, Plumbing, Heating, and Air including the Bonney softball team, golf outings, as well as a recent Tough Mudder Competition in Lake Tahoe.
Bonney is the premier residential plumbing, heating and air service because of skillful, experienced certified premier technicians like Eddie.
Is your air conditioner not blowing as cold as it could? Give Bonney a call at 800-444-0551. Our friendly customer care representatives would be glad to help you.