Out in the Field with Bonney Plumbing, Heating & Air
June 17, 2016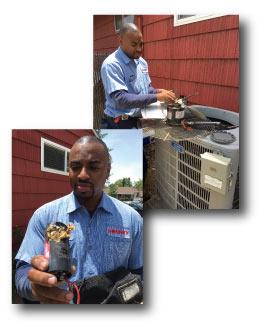 One of our Certified Premier HVAC Technicians, Nick, was scheduled to perform a 50+ point precision tune-up and cleaning service of an older air conditioning system in East Sacramento.
Nick arrived right on time and introduced himself to longtime East Sacramento resident and loyal Bonney customer William S. and his daughter Patty. William signed up for the Bonney BAM Plan last November. Bonney's Automatic Maintenance (BAM) Plan features three annual tune-ups on A/C, Heating and Plumbing. The BAM tune-ups help keep home comfort systems operating at peak efficiency, which can reduce monthly utility bills, but they also detect potential problems that can be solved inexpensively before major damage occurs and you're left with no air conditioning in the middle of a heat wave.
Before Nick entered the home he put on the "Bonney Booties", shoe covers which help keep the customer's house clean of any dirt and debris that may be tracked inside the house. Nick also brought a clean tarp inside to lay out his tools. Part of our technicians five star service is they want to leave the inside of the home spotless.
William S. remarked, "I appreciate the care and cleanliness"
At Bonney Plumbing, Heating and Air, we value our customers and think of them as part of the Bonney family. We like to get to know them. William S. has been a Sacramento resident for seventy years. He mentioned he was a tech supply sergeant in the Air Force. He proudly told Nick, "Me and a bunch of soldiers built this house in 1951". There definitely was a pride of ownership at the red ranch-style home in East Sacramento.
After the initial pleasantries, Nick got down to business. He carefully and meticulously went through the 50+ point BAM inspection list which is designed to check if the air conditioning system is safe, and is operating correctly and efficiently…which saves customer's money! Nick pointed out that the BAM Plan, which is a comprehensive inspection of the A/C system, is the key to maintaining an A/C system's longevity. And for the price he added, "You can't beat it!"
To find out all the services included in the Bam Plan go here: https://www.bonney.com/bam/
While methodically performing the A/C tune-up, Nick diagnosed a few problems with the air conditioning unit and informed William and his daughter of the issues, as well as the cost before he started any work on their system.
They approved the repairs to get their air conditioner up to speed and humming all summer long. Nick didn't have to waste the customer's time driving back to the Bonney warehouse for the parts because they were all available on our "Warehouse on Wheels". They also received 15% off the repair due to the preferred pricing of the BAM Plan.
At Bonney Plumbing, Heating and Air we give our customers five star service. And with our certified premier HVAC technician Nick, the William's family certainly got it.
If you want five star service like William of East Sacramento received, call Bonney Plumbing, Heating and Air at 800-444-0551. Don't worry, we're on it!