Backflow Preventers Sacramento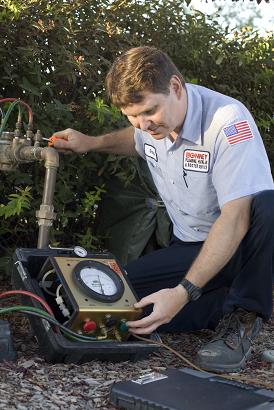 Did you know that the law requires only specially trained and certified plumbers to certify the proper operation of a backflow prevention valve?  If you have a non-certified plumber work on your backflow valve, a certified plumber must provide a re-certification to ensure safe and proper operation.  As a full service plumbing company, Bonney provides comprehensive backflow testing, backflow certification, backflow re-certification, backflow installation, and backflow repair and service.
Backflow Testing and Certification Sacramento
Have you received the biennial notification from your local municipality stating that you are due for backflow re-certification?   Bonney's expert backflow testing and backflow certification means you stay compliant with state regulations. We come to your home or business, perform the appropriate certification, and submit all paperwork to the regulating agency. Our certified plumbers are registered with all of the municipalities in the areas we serve.  As a result, our service is smooth and hassle free for our customers.  Bonney offers one-time backflow testing or pre-scheduled biennial backflow certifications for our residential or commercial customers. Call on Bonney when it is time to have your backflow valve certified.
Backflow Valve Installation Sacramento
As certified plumbers, Bonney specializes in backflow valve installation for commercial or residential customers. We have the specialized training and the years of experience necessary to install your backflow prevention valve with speed and quality craftsmanship.
Protect your investment. At Bonney, we also offer customized heavy-duty security cages that will protect your backflow device against theft and vandalism. Bonney also recommends an insulation blanket to protect against freeze damage.
Sacramento Backflow Valve Repair
If you notice that your backflow valve is leaking, Bonney's certified plumbers provide residential and commercial backflow repair.  We arrive in a Warehouse on Wheels with a full inventory of quality repair parts.  Our technicians, as certified and registered backflow testers, will bring the specially calibrated testing devices required to re-certify the backflow valve at the completion of the job.  Our comprehensive backflow repair service allows Bonney to provide exceptional quality to our customers.
Bonney can provide all of the services needed for your backflow so that you don't need to call multiple contractors.  Our complete service saves you valuable time and money.  Call Bonney today at 800-444-0551.
We charge by the job… so you know the cost before we start!