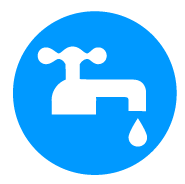 Vacaville CA Plumbers
Reliable, experienced, certified premier plumbers
We charge by the job, so you know the cost before we start.
Our plumbers are drug screened and background checked for your safety
Plumber Vacaville, CA
Finding an expert plumber in Vacaville, CA is simple. Just call Bonney plumbing! You will get an experienced, knowledgeable, and friendly plumbing professional at your door in no time to help with whatever your plumbing needs are. There's no need to shop around, Bonney plumbers are waiting to serve you.
Our plumbers are background checked and drug tested to give you the peace of mind you might need to have a stranger in your home or business. They all come fully insured to protect you in the event of an accident, and they are all licensed by the state as well. You can trust that you are in excellent hands when a Bonney plumber is on the job in Vacaville. Call today for a hassle-free plumbing experience.
Water Heaters Vacaville, CA
You need the best water heater services you can buy because you definitely don't want to be left in the cold if your water heater fails. Bonney is the water heater expert in the area and provides a full of services including installation, maintenance, inspection, and repair. There are many types of water heaters, and we are able to work on any of them. If you are looking at getting a new water heater, we can also help you choose the right product for your building.
Standard Water Heaters
Vacaville homes and businesses primarily have standard water heaters. Sometimes these heaters can have leak problems, or the heating components fail. Bonney plumbers are able to service any type of standard water heater from any brand. Do not leave the performance of your water heater up to chance. Call us today!
Tankless Water Heaters
Are you looking to save money on your energy bills? Maybe you want to install a water heater that will last longer than your old one? It could be that a tankless water heater is right for you. It is more energy-efficient and more reliable. Tankless water heaters tend to have longer warranty periods than standard ones simply because they last longer. They also do not run out of hot water, no matter how much is being used at one time. Call Bonney today for more information.
24 Hour Plumber Services
Plumbing accidents can happen at any time of day. It might be on a Saturday night when you are out with friends, or it might be early in the morning when you step into your morning shower. Whenever it is, there is a Bonney plumber just waiting to help. Our 24-hour emergency line means that help is just a phone call away, no matter what time of day it is.
Plumbing Inspections
You should never wait until water is leaking into your home for a professional plumber to have a look at your plumbing system. Inspections may seem like an unnecessary expense, but they absolutely are not. It can actually save you money by having an inspector examine your system on a regular basis to make sure it is running smoothly. They can make any quick repairs needed to keep things in top shape. A large, preventable plumbing disaster can cost far more, and create more stress, then regular inspections and maintenance ever could.
Pipe Replacement
There will come a time in older buildings when the pipes need to be replaced. As you can imagine, this can be a huge job that involves many considerations. Repiping a home means taking out all of the old, failing pipes and installing new ones. It must be done carefully to make sure that everything is installed safely and securely. Call the repiping experts at Bonney to help with the failing pipes in your building.
Drain Cleaning
Do you ever find that you have a sink or tub that keeps getting clogged? Every month or so, almost like clockwork, the water stops draining properly. This is because there is probably a build-up inside the drain that doesn't get completely eradicated when you use a liquid plumber product. Bonney has clog and blockage experts on staff who can completely clean out your drains to make sure that a clog does not just come back in a month's time.
Sewer Line Service
Sewer lines are probably the unsung heroes of any plumbing system. After all, they get rid of your dirty water and make sure that it gets into the sewer system. It is vital that your lines are as clear as possible at all times, otherwise, they can back up and leave a smelly mess in your home. Call a Bonney plumber to have them stay on top of your sewer lines through inspection and maintenance, and to provide you with any repairs you need.
Hydro Jetting
Bonney technicians can offer hydro jetting services to our clients. This is a powerful way to clean out pipes and allow water to move unhindered. It uses water under high pressure to blast away any blockages and to scour the walls of the pipes as well.
Plumbing Products and Brands
Bonney carries a wide assortment of plumbing products and appliances as well. Call our team of experts to help you choose the right equipment for your next project.