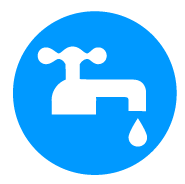 Rancho Murieta CA Plumbers
Reliable, experienced, certified premier plumbers
We charge by the job, so you know the cost before we start.
Our plumbers are drug screened and background checked for your safety
Plumber Rancho Murieta, CA
You deserve the best plumbing services in Rancho Murieta, CA, and Bonney can provide that for you. Our plumbing professionals will stop at nothing to provide you with the best plumbing experience possible. There is no job too big or too small that they will not take on with determination and a smile.
Every one of our plumbers is fully background checked and drug tested. They also carry certifications and licenses, so you know that you will be getting excellent workmanship along with friendly customer service. From excellent service to excellent workmanship, Bonney does it all for Ranco Murieta clients.
Water Heaters Rancho Murieta, CA
No home or business can operate without a water heater, so it's a big part of what we do. You never want a water heater to break down unexpectedly, so it's crucial to have an expert working on yours to prevent that from ever happening. Our plumbers can work with any water heater, no matter the brand or the heater type. Call us today to talk about how we can help you with yours.
Standard Water Heaters
Standard water heaters have a large tank that has a heating component built into it. This tank can hold many gallons of water and provides heated water on demand. If too many people are using hot water at once, then the tank can run out of heated water faster than people are using it. It sounds simple enough but there are several options for a tankless water heater. Call today for help choosing which water heater is right for you.
Tankless Water Heaters
A tankless water heater does not need a tank. It, therefore, cannot run out of hot water. It heats water as it enters the plumbing system so that you never have to worry about the hot water running out. Tankless water heaters require less maintenance and have fewer parts to wear down or fail, making it a great option for your pocketbook. Call Bonney today for guidance to help you choose the right water heater for you.
24 Hour Plumber Services
Your plumbing system does not take a rest, and neither do our plumbers. There is always someone available to answer your call on our 24 hours a day, 7 days a week emergency line. This line will ensure that you can get help immediately, instead of waiting until the next day. The more a plumbing leak or other issue is left to fester, the worse it will get.
Plumbing Inspections
Do not forget about scheduling inspections for your water heater. It's a small thing, but it can pay big dividends. Inspections allow you to save money on future repairs by keeping the system in tip-top shape at all times. It also means that do not have to stress out about your plumbing system possibly not working. It will have been checked over by a Bonney professional, so you know that it is in good hands.
Pipe Replacement
PIpe replacement involves taking out old pipes and replacing them with new, better functioning types. It requires careful planning and the patience to go through each pipe that needs to be replaced. Most often the signs of failing pipes are a reddish color, a strange smell, or a drop in water pressure. Call Bonney right away if you have experienced any of these things.
Drain Cleaning
Drain pipes will get clogged. It's simply a fact of life. However, if you are repeatedly getting the same drains clogged over and over, then there may be something more going on. In many cases, it's something that has built up in the drain that eventually becomes fully closed. You might break down some of it, but something always comes along to re-clog it. Bonney plumbers can remove the original clog, but also clean it completely so that you don't have to worry about clogs anymore.
Sewer Line Service
Your sewer line serves the important function of removing your sewage fro the building. This keeps things clean and sanitary. Our sewer line specialists can provide inspections, maintenance, repair, and replacement of your lines to make sure that sewage is going away from your house or business.
Hydro Jetting
To properly clean out your pipes, a technician can perform what is known as hydro-jetting. They will blast high-pressure water through the system to scour the edges of the pipes and break down any buildups. If not done properly, this process can cause damage to the pipes or cause injury.
Plumbing Products and Brands
Bonney is your one-stop-shop for the very best in plumbing products and brands. Call or visit us today to see how we can help.
Bonney carries a wide assortment of plumbing products and appliances as well. Call our team of experts to help you choose the right equipment for your next project.