Bonney Plumbing, Electrical, Heating and Air is excited to partner with Lennox International to gift a deserving member of our community a new heating or cooling system with free installation.
Feel The Love supports heroes who make a difference.

How we do it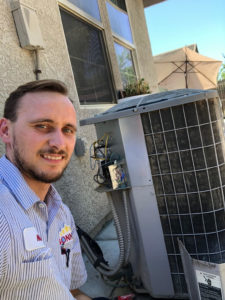 Submit a Nomination Before August 31!
You can recognize deserving individuals and families right here in the Greater Sacramento Area, the Central Valley all the way up to Vacaville by nominating them to receive new heating or cooling systems.
Each nomination recognizes an unsung hero who may be going through hardship, helping others in need or simply supporting their community. And this year, given the recent COVID-19 pandemic, we're expanding the program focus to bring hope and support to medical professionals, essential workers and those on the frontlines.
Feel The Love nominees all have one thing in common: they always put others first. But sometimes, these individuals need a little help making sure their own needs are being met.
Many of our nominees simply don't have the means to make their homes more comfortable on their own. That's where nominations from community members like you come in.
If you know someone in your community who deserves recognition, nominating them to receive a new heating or cooling system is a heartfelt way to show your appreciation.  Recognize your unsung hero today, nominations close August 31st! 
Selection Process
After receiving all of the nominations, we honor select recipients with new heating or cooling equipment. Oftentimes, these people lack the means to make their homes more comfortable on their own, but we believe that everyone should feel safe and comfortable in their home. We're dedicated to giving those in need the perfect air they deserve. After receiving all of the nominations, the teams from Bonney and Lennox will select a winner after a panel review.
Installation Day!
We want to make sure we celebrate the day the winner will get their new HVAC system!
During the second weekend in October (October 8th – 11th), Bonney in partnership with Lennox will visit the winner's home and gift them with a Merit Series single-stage air conditioner from the line of products that sets the Lennox® standard of excellence. Each unit comes complete with 3-year Comfort Shield Labor Protection Plans. Bonney service technicians will be ready to donate their services to install the system and celebrate with you.! We are excited for the big reveal!