Congratulations to Our Bonney Gives Back Sweepstakes Winner!
February 22, 2018
Congratulations to Tawana L. of Citrus Heights who won a new Bradford White water heater courtesy of the "Bonney Gives Back Sweepstakes". Tawana said, "I'm still shocked that I won, I've never won anything in my life".
Tawana had just bought her first home with her life savings but was in serious need of a new water heater. She had hired someone to help diagnose some water leaks in her backyard when he mentioned that she was in serious need of a new water heater. It was on its last legs! She told him she couldn't afford it and would just have to "ride this one out". Tawana had no money and was getting ready for major back surgery in April.
Tawana's water heater was built in 1991, that was 27 years ago! Nirvana's "Nevermind" was the number one album, the NY Giants won the Super Bowl , and Terminator 2: Judgement Day was tops at the movie box office that year. Tawana was excited to say "Hasta La Vista, Baby" to her old worn out water heater for a new Bradford White water heater from Bonney Plumbing.
While one of Bonney's 5-star certified plumbing installers, Ben M., was diligently replacing Tawana's water heater she looked on with her faithful dog Shadie and said, "It looks beautiful, I'm so proud".
Tawana also heaped a lot of praise on Ben, "he's a very sweet, hard-working guy. I like angels, and Ben was my angel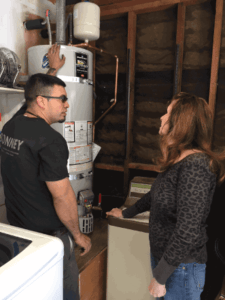 today. He did a great job!" Ben is very passionate about plumbing and it shows. Ben added," I like my work to be something I can stand by and be proud of".
Once he was finished with the job, Tawana and Ben both stood back and admired the quality craftsmanship of the new water heater installation. "Look at that…isn't that nice?" She said.
Tawana's plan was to celebrate winning the new water heater by taking a relaxing, warm, bubble bath that evening. When asked how she felt about winning a new water heater from Bonney Plumbing, Electrical, Heating and Air, Tawana appreciatively said, "I'm elated, thrilled, and appreciate it from the bottom of my heart."