Bonney Delivers 5-Star Plumbing Service to Meals on Wheels  
February 1, 2018
It was a foggy morning drive to Woodland for 5-star certified Bonney plumbers Matt and Dwayne. They had an urgent water heater replacement job ahead of them. Meals on Wheels of Yolo County, which has been providing daily hot meals to seniors in the region for over 40 years, was having major issues with their water heater. The water heater had a whole list of problems, but mainly, it wasn't providing the facility with the reliable hot water it needed for cooking and washing dishes on a daily basis.
The Meals on Wheels kitchen staff prepares over 350 hot lunches every morning for Yolo County seniors which are then packaged and home delivered by their friendly volunteers. The seniors look forward to their freshly prepared hot lunch as well as the human connection they receive from the volunteers who are a vital part of the Yolo County community.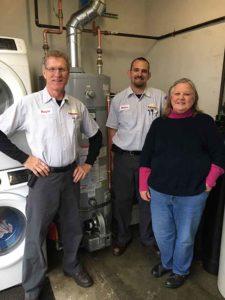 Matt and Dwayne arrived to the Meals on Wheels facility and were greeted warmly by Executive Director Christi Skibbins and the savory smell of pulled pork sandwiches. The freshly prepared sandwiches smelled as good as anything they serve at Dickey's Barbecue! Christi was eager to get the water heater replaced to have reliable hot water the next day. They had to boil water to keep things rolling that morning. Gloria Tandy, the food services manager said, "It's hard to run this program and not have hot water, it'll be a big relief when it's all said and done".
Matt and Dwayne went to the back of the facility where the water heater was located, slipped on their Bonney coveralls, and went to work to replace the 100 gallon water heater. Matt has been a plumber for over 3 years and Dwayne paid him quite a compliment by saying, "You'd think he'd been doing plumbing for 7 or 8 years", which is high praise from a senior plumbing technician with over 24 years of experience at Bonney. Matt returned the compliment by saying, "It's nice to be out in the field with a senior technician, especially with all the plumbing knowledge Dwayne brings to the table, he has a lot of insight and little tricks of the trade".
Both men practiced extraordinary Bonney teamwork, mutual admiration, and a dose of light-hearted banter. It was a perfect combination and great example of the Bonney Way.
While Matt and Dwayne were prepping the new water heater for the installation, Meals on Wheels volunteers were busy picking up freshly prepared hot meals that were to be delivered to those who need it most in Woodland, West Sacramento, Winters, and Davis. Judy, one of the generous volunteers, asked if Bonney could come look at her old toilet which had a very slow flush. She knew all about Bonney's 5-Star service and witnessed it first-hand that morning. Matthew gave her his Bonney card and told her "feel free to call Bonney, we'd be happy to take it look at it". Then she was off to deliver the scrumptious hot lunch for seniors.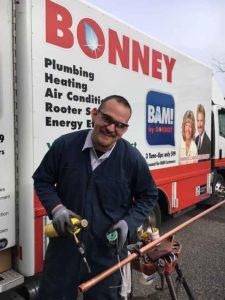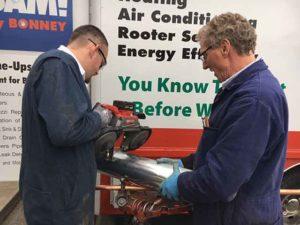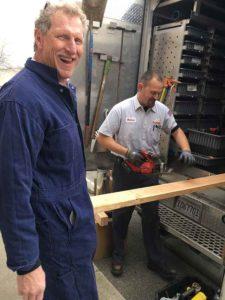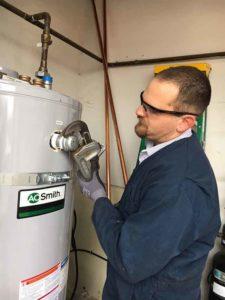 Once the kitchen staff was finished with the water at the Meals on Wheels facility, Matt shut off the water supply, the gas supply, and drained the water from the old water heater. An awful lot of brown gunk came out of the water heater! That brown gunk is sediment buildup that settles at the bottom of the water heater. Water has minerals and suspended particles in it which can cause your water heater a lot of problems including lowering efficiency. They used a tubing cutter to sever the cold and hot water pipes connected to the heater and disconnected flue gas connection at the top of the water heater. Then it was time to remove the water heater.
That's when soldering of the copper tubing began. Gentlemen start your soldering! As Matt put on the safety goggles and gloves and methodically started soldering he said, "Soldering copper tubing is becoming a lost art". Matt and Dwayne have a lot of pride in their 5-Star soldering techniques and took the time to do the job right and demonstrating their quality craftsmanship.
Then it was time to fill and heat the hot water heater. Once the water heater started working you could smell the oils burning off, Dwayne exclaimed, "That's the smell of a successful water heart installation!" Bright and early the next morning there would be the mouthwatering smell of Southern fried steak with country gravy in the kitchen at Meals on Wheels.
Once the guys were finished up, Matt told Christi that "We'd like to be your plumber for any and all of your plumbing needs". He also gave Meals on Wheels a generous discount on the water heater installation. The Executive Director was pleasantly surprised and touched by the donation.
It's vitally important to have a water heater professionally installed. Bonney 5-Star certified plumbers like Matt and Dwayne are trained to look for potential installation dangers and code violations to make sure the water heater will operate efficiently and safely. It's especially important at an organization like Meals on Wheels, which counts on hot water every day to nourish and feed seniors who live in the community.
A week after the water heater installation, Christi Skibbins, the Executive Director, sent an appreciative note that read, "Thanks to Matt and Bonney Plumbing, we have a brand new 100 gallon water heater which is humming along providing plenty of hot water for all the cooking and dishwashing we do around here! Great job, guys! And also, many thanks for the generous donation to our program when you were here doing the work…we appreciate it!"
If you're ever having water heater issues and your water isn't getting hot as quick as it could, call the certified premier plumbers at Bonney for 5-Star Service. Schedule your appointment online or call 800-444-0551 and we'd be happy to help.