Eradicating a Resilient Foe – Rust
December 4, 2017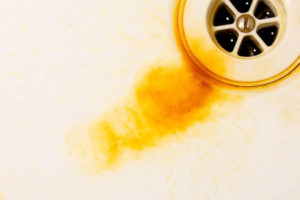 Rust is a foe common to all people who have ever attempted to clean a bathroom. Rust flourishes in moisture rich areas, so it's not surprising that metal bathroom fixtures frequently fall victim to its degradation. Cleaning rust can take a lot of effort if you're not using the right chemicals, and certain chemicals can damage your fixtures beyond repair. Here are some useful tools to remove unsightly rust safely from your bathroom's metal fixtures.
Removing Rust Stains from Bathroom Fixtures
Trust in Bar Keepers Friend® – Bar Keepers Friend is a trusty companion when it comes to eradicating rust stains. Bar Keepers Friend safely removes rust stains and mineral deposits from metallic faucet finishes and toilet bowls without stripping their finishings in the process. It's a powerful cleaner that can also be used to clean sink stains, bathtub blemishes and filthy shower basins. It can be used on virtually any surface including ceramic, porcelain, stainless steel, enameled cast iron and glass.
The Works® Limeosol™ – The Works Limeosol lives up to its name, removing rust, mineral deposits and water stains instantly, no scrubbing required. Limeosol does have a dangerous chemical in it, so make sure to keep kids and pets away and to wash your hands thoroughly after use. Avoid using it with septic systems.
Grind Rust Away with a Pumice Stick – Pumice sticks are perfect for removing grime and rust stains from porcelain. Pumice removes mineral deposits and other stains from tubs, showers and toilets. They're safe products to use and are kid and pet friendly. Avoid scraping surfaces and opt for a gentle scouring technique instead.
Use Coca-Cola® to Clean Your Toilet Bowl – Nope, it's not a joke – Coca-Cola's carbonic and phosphoric acid can gently clean your toilet bowl. Cola's carbonation is the active agent, meaning other carbonated beverages work just as well, including club soda. Simply pour it into the bowl, use a brush to scrub and flush after.
Softly Clean with Shaw's Pads – Shaw's Pads are chemical-free, septic tank-friendly scouring pads that you can wet and use to brush away stains easily. The pads work best on toilet rings, calcium deposits, rust and lime buildup. It also works on pool tile chemical stains and hard water residues.
Safely Remove Rust Stains with Bonney Plumbing's Professional Plumbers
Some rust stains, if left to worsen, can lead to compromised structural integrity. Before your rust problem gets out of control, have your pipes and faucets cleaned and examined by Bonney Plumbing's reliable professionals! We provide a wide selection of plumbing services, including repairs and installations, with several assorted brands.
Our plumbers are fully certified, providing five-star services at affordable rates found nowhere else in Sacramento, California. Most repairs can be completed on the same day because of our efficient equipment and quality plumbers.
Contact us today to schedule a repair with plumbing services you can depend on.