Make the Switch to LED Lighting
September 5, 2017
LED lights are fast becoming the preferred choice of lighting due to their many advantages over conventional incandescent, fluorescent, and even CFL lights. There's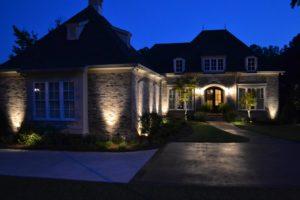 a long list of reasons why they're becoming popular; LED lights are more energy efficient, longer lasting, and durable. They generate virtually no heat, they don't emit UV rays, and they also light up instantly when you flip the switch.
Although LED lighting may have a higher initial cost than incandescent and compact fluorescent light bulbs, the cost is quickly recouped over time in lower electricity costs.
According to the U.S. Department of Energy, electricity used for artificial lighting in the U.S. could be cut by nearly half by 2030 through the adoption of high efficiency LEDs.
American cities across the country have switched or are switching to LED technology. One of the brightest cities on the planet, Las Vegas, is switching to LED streetlights. Local officials in Seattle have completely replaced all residential streetlights from sodium to LEDs. Over the past few years, Los Angeles has been replacing their streetlamps with the power of LED lighting. LA officials calculate energy savings amounting to at least $7 million, plus $2.5 million in annual avoided maintenance costs.
Bridges and monuments are also getting into the LED act. The San Francisco Bay Bridge was recently transformed into a dazzling display of 25,000 individually programmed LED lights that shine brightly from dusk til dawn. The Eiffel Tower in Paris, France is adorned with 20,000 LED lights that light up the sky on a nightly basis. The iconic New Year's Eve Times Square Ball is decked out in bold and bright LED's to countdown the New Year annually. Even Sacramento and the Tower Bridge have got LED Fever. Community leaders are raising money to replace all the Tower Bridge lights so it pulsates with LED technology. They're calling it "Re-power the Tower".
Don't you think it's time to make the switch to LEDs for your home? Join the LED lighting revolution! Everybody's doing it, and with good reason, due to LED's numerous advantages over other lighting choices. LED lighting is extremely long-lasting and has an average lifespan of 11 years or more, which means you don't have to get out the ladder and change a light build every few months. LED lights are also very energy efficient. They use just 10 percent of the energy of incandescent lights and less than half the energy of fluorescent bulbs.
There are numerous benefits to LED lighting besides energy efficiency and long life, LED lights are durable and don't break easily. They generate virtually no heat so they're cool to the touch. With LEDs you can direct the light where you want it, which means no light is wasted. LEDs also don't emit UV or infrared and contain no mercury like an incandescent bulb, which makes them more environmentally friendly.
LED lights are not only great indoors, but, they're also useful for the exterior of your home. Outdoor lighting has three basic tasks; safety, security, and enhancing your outdoor space. Go beyond the porchlight and spread the light throughout your property so in the evening you can enjoy your backyard space. LED lights are used especially for effect, style, and design so the idea is not to try to get a huge amount of light unless it's for security.
An added bonus to LED lighting outdoors is it doesn't attract bugs and moths like other types of bulbs. New research suggests that the type of bulb you use for outdoor lighting can have an effect on the amount of bugs flying around. Since LED lights produce little to no UV light and a miniscule amount of heat, it makes them less attractive to bugs.
Make the switch to LED lighting with 5-star service from Bonney Plumbing, Electrical, Plumbing, and Air. Call 800-444-0551 and we'd be happy to help you replace your current lighting to energy-efficient, money-saving LED lighting.