Is Your Plumbing System Ready for the Big Game?
February 2, 2017
The New England Patriots take on the Atlanta Falcons for the Big Game on Sunday at NRG Stadium in Houston. While some sports fans will be focused on the Big Game,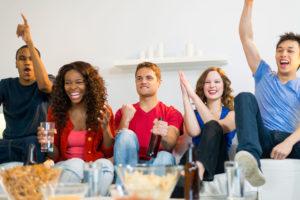 others will be focused on the Big Party.
Football parties are a blast! Friends and family will be getting together to root for their favorite team, watch the commercials, and munch on an abundant amount of party snacks and appetizers. Chicken wings, potato skins, nachos, beef sliders.…the works!
Then of course there's the beer. Lots and lots of beer. Which usually means lots and lots of flushing.
Is your plumbing system ready for all the action? Did you know that 90 million toilets will be flushed during halftime? Don't let a plumbing issue or a kitchen sink clog ruin your Big Game Party and don't be a victim of the "Half-Time Flush"! The Big Game Half-time Flush is somewhat of an urban myth but when a lot of people are gathered together to eat copious amounts of food along with lots of beer…it's gonna put a strain on your plumbing system.
Prepare your bathroom before guests arrive to ensure you don't have a plumbing emergency during the Big Game.
Make sure there are trash cans in your bathroom so that guests aren't encouraged to flush anything other than toilet paper.
Keep a plunger next to the toilet for the big game just in case there's a clog during your party.
Remove small items near the toilet bowl that could fall in and cause a clog, especially if there will be small children at the party.
Don't flush anything down the toilet except toilet paper. Maybe even post a small note to remind guests.
You want to focus on the Game, not the Toilet Bowl during the big party.
Hosting a football party can also put a strain on your kitchen sink.
What's a football party without delicious and greasy food? Just don't overload your garbage disposal or place the wrong types of food in it. If you're serving up the classic chicken wings with celery on the side don't forget that stringy vegetables and bone fragments are super harmful to your garbage disposal. The bones will just keep spinning round and round with the blades. They'll never make it down and may clog your drain. Make "no bones" about it. Celery has long, stringy fibers that become entangled around your garbage disposal's blades, causing it to stop working. Don't strangle your disposal! Play it safe and leave these veggies for the trash can.
And if you're making chicken wings, bacon, or any other grease filled foods, don't dump the grease down the disposal. It mucks up the blades and can cause clogs down the line.
If you experience a major clog or any other plumbing disaster during your Super Bowl Party, don't worry, we're on it! Call Bonney Plumbing, Electrical, Heating and Air at 800-444-0551 or contact us online. We are open on Super Bowl Sunday and don't charge extra for weekends.