Meet Corey: Bonney's Certified Premier Master Electrician
February 15, 2017
Bonney is Sacramento's premier residential plumbing, heating and air-conditioning service company. We're excited to announce we've added electrical services to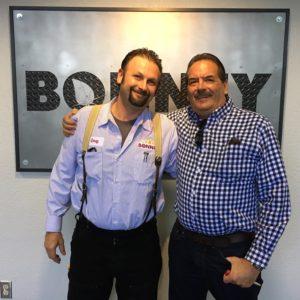 our line-up of home comfort services. The same reliable Bonney 5-star service you've come to expect for plumbing, heating and air-conditioning will also apply to our electrical services.
One of the main reasons Bonney is thrilled about our new electrical services is our new certified premier master electrician Corey. Corey is an experienced, knowledgeable, detail-oriented electrician with many years of electrical expertise. He's also an affable and thoughtful person who enjoys getting to know all kinds of people.
Corey grew up in Gilroy, California. Yes, the "Garlic Capital of the World" and home of the world famous Garlic Festival. "I went to a lot of Garlic Festivals. I worked at probably 8 or 9 of them." Corey said.  Corey was a Boy Scout so he'd be responsible for handing out batteries to all the law enforcement and security guards at the Festival. Corey added, "We got to drive golf carts all the way down this big hill, it was pretty crazy".
Corey's road to being an electrician all started when he worked alongside his dad, who was a carpenter, during the summer. Fixing stuff is in his genes! Corey just loved to work. Doing anything as long as it was alongside his dad.  The electrician on this one particular jobsite needed a toilet moved. So Corey and a fellow Boy Scout friend of his put the toilet in the back of the truck and the guy tried to give him money. Corey refused saying, "No no I just like working". After a while on the jobsite, they were so impressed with Corey 's  drive and hard-working ethic they offered him a job as an electrician.
Corey said, "I talked to my dad about it, because he's my best friend, and he said, "Son, I always wished I was an electrician. Carpentry is hard work. You gotta carry a lot of wood, you can beat your thumbs up pretty bad…. You should do it".
That's when Corey went to the company, which built large brand new custom homes, and said "Yes" to the gig. Within a couple months Corey had a company vehicle and he was in charge of some of the jobs. And he was only 19 years old!
Corey has had an impressive list of clients while performing electrical work. One of his favorite electrical  jobs  was for a gentleman named Mike Markkula, one of the founding backers of Apple. When you first meet him you go through a stringent background check. Then you stand in a line with the rest of the workers and introduce yourself. "Hi, my name is Corey".  Corey was told by the contractor that the workers were not supposed to talk to Mr. Markkula during the job.  About two months later, Corey sees Markkula walking right towards him "So I have to say good morning or something. So I say, "Good morning, Mike. It's really nice to see you." And he responded, "Well Corey, it's nice to see you too." I told him I was really surprised he remembered my name because I was just a nobody at this job. And Mike told me, "Corey, let me give you a little advice. If you can remember someone's name, you're already their friend." And that has stuck with Corey and changed his entire life. "So now when I go to a restaurant or a job it's really important to me to remember names and let them know that. It sticks with me."
That was one of the really unique jobs he's worked on.
Another job that Corey loved was for San Francisco Hall of Fame wide-receiver Jerry Rice. Corey said, "He was very cool, calm, and collected. We went to a Home Expo and picked out the lights. It probably would have taken only an hour if we didn't get stopped by hundreds of admirers wanting pictures and autographs. We were there for almost 6 hours."
Corey recalls, "That was really neat to see someone with that much fame treat everyone so good."
Corey believes one of the most important things a homeowner should know about their electrical system is "always know where the main breaker is so in case there's an emergency they can shut it off. They should always know how to shut the breakers off themselves. You shouldn't just shut the main breaker off you should start with the largest circuits and work your way down to the smallest circuits. And then disconnect the main." Important advice from a Master electrician.
Corey thinks homeowners should also know LED lighting is the best way to save money. Corey is a big advocate of LED lighting for the home. He said, "It's a more efficient lamp than incandescent or CFL's and they last longer. Most LED lights have a 25 year warranty. Which means you're not going to be changing it out for 25 years." He added, "It's great for high ceilings because it gives out more light!" Once you get LED lights there's no looking back.
Corey thinks one of the biggest electrical issues homeowners face is loose connections. "That's the biggest thing I've seen. A loose screw or a loose wire nut." At one electrical job, he went in the attic where they had put the wires together and twisted them and taped them up in the wire nut. After 20 years of being used it finally broke connection and there was no power. "So we had to fix it so the homeowner could regain power to the home".
When it comes to older homes, Corey says some of the electrical difficulties owners have to deal with is knob and tube wiring. Knob and tube is an early standardized method of electrical wiring in use from about 1880 to the 1940's.  It was considered state of the art back then, but now it is very dangerous, is in violation of current legal electrical codes, and is not insured by most insurance companies.
Corey also believes Zinsco panels can be a major problem for homeowners. An older home will most likely have Zinsco panels, a brand of electrical panel that was commonly installed up to the mid 1970's. It was a very popular product and installed throughout North America. Production was halted when design flaws were discovered. The deficiencies were serious enough to be considered both a fire and electrical shock risk. The circuit breakers inside many Zinsco panels melt to the main "bus bar" which means the breaker can't ever trip, even when there's a short or overload circuit. So if there is a short or other problems, the surge of power can melt wires and possibly start fires in your home.
The only way to get rid of a Zinsco breaker is to update the panel. Which of course, Bonney Plumbing, Electrical, Heating and Air  Conditioning can do for you.
Before Corey arrives first thing in the morning to Bonney Plumbing, Electrical, Heating and Air he always fuels up at Brookfield's Restaurant in Rancho Cordova. Corey has become an early morning regular at Brookfield's. He likes the homemade food and warm friendly atmosphere. His go-to order is poached eggs on rye toast with cocktail sauce and a bowl of fruit with coffee. Corey is very affable and friendly and loves people. He's already getting to know all the other restaurant regulars. Corey listed off the other regulars, "There's Tammy, Dar, Diana, I usually sit next to Bob and Ron. And sometimes Russ and his son Zak sit next to me. I walk in with Bob, he's 85 years old. He likes to open the place with me. He's the first person in the door before they open at 5:55. It's a little part of my morning everyday."
If you ever have an electrical issue at your home, you can spend a little part of your day with Corey, our certified premier Master Electrician at Bonney Plumbing, Electrical, Heating and Air Conditioning. And don't forget, he'll always remember your name.
Check out Bonney's Electrical page at https://www.bonney.com/electrician/ to learn about Bonney's premier electrical repair service and installation. For homeowners in need of electrical service and repair they can rely on, give the Certified Premier Electricians at Bonney a call at 800-444-0551