Bonney Plumbing Heating and Air: We Don't Charge Extra on Holidays
November 22, 2016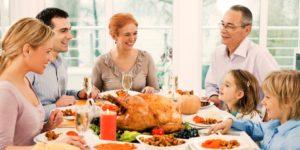 The Thanksgiving holiday is a time for friends and family to gather together and give thanks for all of the blessings received throughout the year.
Did you know the day after Thanksgiving is the busiest day of the year for plumbers? Virtually every traditional Thanksgiving dish is a supreme drain clog culprit.
The 4 Most Common Thanksgiving Plumbing Problems
Clogged kitchen sink drains

Overflowing toilets

Broken toilet flapper valves and lift chains

Broken garbage disposals
Don't get caught off guard with a plumbing or sewer emergency this Thanksgiving! Because the last thing you want to deal with is an overflowing toilet or a clogged kitchen sink when friends and family are visiting for the Thanksgiving. Not the best way to impress Aunt Peggy or Grandpa Joe.
Make sure your drains and sewer system are in perfect working condition during the holiday season by calling Bonney Plumbing, Heating, Air and Sewer.
Get a sense of relief before the relatives arrive with our 123 clog free guarantee. Our 123 sewer and drain special includes our unique three-step process
Clear and clean your mainline

Video camera inspection of your mainline

We provide a written report and our 123-Day Clog Free Guarantee
Or you can take advantage of Bonney's Automatic Maintenance (BAM) Plan which features three annual tune-ups that keep your home comfort systems operating at peak efficiency, saving you time, money and the embarrassment of an inopportune sewer back-up on Thanksgiving.
Plumbing, Heating and AC Home Maintenance All for $99/Year
If you do have a plumbing or sewer emergency, don't worry, we're on it! Call 800-444-0551 and a Certified Premier Plumber from Bonney will give you a sense of relief that your sewer and drain is in perfect working condition. And remember, we don't charge extra on holidays!