Breathe Easy with Bonney's Indoor Air Quality Solutions
September 16, 2016
The most important thing in life is the air we breathe. Taking a deep breath in the great outdoors along a tree lined mountaintop is one of life's simple pleasures.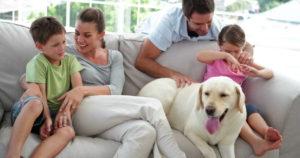 Ahhhh…. fresh mountain air.
But, back to reality. Most people aren't spending their lives in the beautiful Yosemite Valley or Sierra Nevada mountains breathing fresh, clean air unless they're a forest ranger. A majority of our time is spent indoors. At work, school, and home. That is why indoor air quality is vitally important to our health and well-being. Indoor air quality can be 2 to 10 times more polluted than the air outside. Unfortunately, there are no giant sequoias trees in the family room filtering the pollution!
According to the Environmental Protection Agency, indoor air quality is one of the top five environmental risks to public health. Indoor air quality is something most people don't even think about while they're busy with their daily lives.
It is important to make sure the indoor air you are breathing is clean and not full of unhealthy contamination. Allergens and particulates like mold, mildew, pet dander, dust, pollen and wood smoke have a variety of health effects. Nose and throat irritation, congestion, sneezing, cough, asthma flares and more.
Infectious agents are another phase of indoor contamination. Bacterial infections and viral infections create a whole list of health effects like throat and ear infections, bronchitis, upper repertory infections, and pneumonia.
Toxic compounds like formaldehyde, carbon monoxide, methylene chloride, pesticides, tobacco smoke are another list of indoor air quality contaminates with health effects like memory lapse, lethargy, headaches and blurred vision to name a few.
It all sounds a bit scary doesn't it? Makes you wanna run from the house and live in a tree house in the woods!
Don't worry, we're on it!
There's a simple resolution to poor indoor air quality. Bonney's Indoor Air Quality Solutions. Protect your family's indoor air space with a clean air defense system from Bonney Plumbing, Heating and Air. There are many options to choose from for every budget, and every indoor quality need. From the AirRanger whole house polarized-media electronic air cleaner to the Air Ranger Bio IV which addresses all three types of air contaminates in the home.
Our Certified Premier HVAC technicians can install any indoor air quality system you choose to make your family safe, and the air they breathe as clean, fresh and healthy as a tree-lined mountaintop on a spring morning.
Breathe easy and get a sense of relief with Bonney's indoor air quality solutions by calling 800-444-0551. Your indoor air quality will increase dramatically!