Out in the Field with Bonney Sewer and Drain
August 22, 2016
When you hire Bonney Plumbing, Heating and Air for a sewer and drain issue you can rest easy knowing we have top notch technicians who use the highest quality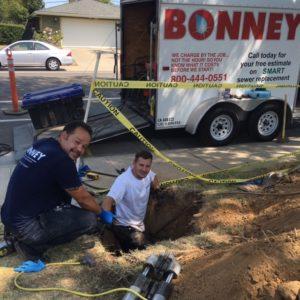 tools and equipment to get the job done right.
It was another hot sweltering triple digit summer day in Sacramento. Mike and Francisco, two of Bonney's certified premier plumbers, were armed with gobs of Gatorade and a five gallon beverage cooler of ice water to stay hydrated. They knew they had a tough sewer and drain job ahead of them at a loyal customer's home in Rosemont.
The customer in Rosemont couldn't flush their toilet due to sewer waste coming up. Not the most pleasant way to start the day. They had a major sewer line clog. A sewer line clog can lead to a raw sewage backup coming out of the drains, which can cause significant damage to the home.
Our Bonney sewer and drain technicians detected major clogs in the customer's mainline due to tree roots invading the sewer line and collapsing the sewer pipe. Most sewer clogs are the result of invading tree roots into the pipes. The tree roots love the warmth and moisture of the sewer lines. They send feelers through tiny cracks or loose joints
in the pipes and once they get inside, the roots feed off the readily available nutrients. After a while, debris collects on the roots and creates blockages and broken pipes.
This is exactly what happened with our loyal customer in Rosemont. Their sewer line was beyond repair. Our Bonney technicians recommended a Trenchless sewer line replacement. The most common type of Trenchless sewer line replacement is called pipe bursting. Pipe bursting is a method in which a new more durable High Density Poly Ethylene sewer pipe is pulled through a customer's old damaged pipe powered by the Tric Tools Pulling System, a phenomenal piece of equipment. Then, the bursting head, which is attached to the end of the HDPE pipe, bursts the old pipe outward…hence the name pipe bursting! It's a cool thing to see if you're a sewer and drain nerd.
The mainline replacement was not without its difficulties, though.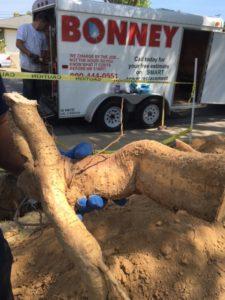 The bursting head was doing its job, being pulled through the existing pipe with the Tric Tools Pulling System, when suddenly it was blocked by something. Bonney technicians Mike and Francisco suspected it was another giant tree root causing the problem.
That's when more Bonney high quality tools and technology came into play. Mike and Francisco used a cool tool called the Ridgid Navitrack Drain Camera Scout Locator to pinpoint exactly where the bursting head was being blocked, and what was blocking it. It uses audio and visual to locate the blockage. It's so easy! Turns out it was another thick tree root, it was the size of Popeye's forearm!
The entire front yard was made up of hardpan and tree roots, which is difficult to penetrate. Using shovels and a Sawzall root cutting blade our heroic sewer and drain technicians Mike and Francisco managed to remove the giant root that was blocking the new HDPE pipe from bursting the old disintegrating pipe. That let the TRIC Tools Pulling System machine be on its way and finish the Trenchless sewer line replacement. It was a beautiful thing!
It was no problem for the Bonney certified technicians. Mike said, "Every sewer and drain job is different".
If you have a tough sewer and drain problem, don't worry, we're on it! Call Bonney Heating, Plumbing, and Air at 916-444-0551.