The Bonney Vehicle is Not Just a Work Truck, It's a Warehouse on Wheels
June 7, 2016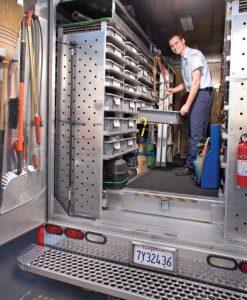 When you call Bonney Plumbing Heating and Air we arrive at your home with a "warehouse on wheels" fully stocked of essential tools, parts, and equipment to get your air conditioner or plumbing repair done as efficiently as possible. That means most repairs can be done in one day, saving you time and money.
At Bonney we work hard to customize our trucks with essential parts and tools so we can better serve our customers. We want our inventory to match the needs of our loyal customers. While competitors may waste time with unnecessary trips to the shop or big box store to get specific parts, Bonney's state of the art "warehouse on wheels" arrives with the latest tools and technologies to handle any plumbing, drain cleaning, or HVAC need.
The "warehouse on wheels" not only efficiently serves our customers, it also helps our technicians. We want to make sure our guys have the tools they need to service our customers properly. Patrick, one of our HVAC technicians, thinks the warehouse on wheels is huge because it saves them a lot of time. "We don't have to drive back to the warehouse to find the right part for the customer. It's usually available on our warehouse on wheels." He added, "It also makes the job more efficient and our day runs smoother."
Bonney Plumbing, Heating and Air regularly replenishes the trucks with high quality parts so we can better serve our customers, because high quality parts last. From toilet flappers to tub spouts to p-traps…you need it, we got it! Our Bonney trucks carry thousands of parts and accessories. We also provide more tools for our techs than most other companies so we always have the right kind of tool for the job.
Our Bonney fleet of vehicles are also maintained and serviced regularly so they don't break down on the way to an important plumbing or HVAC job. We keep our fleet of Bonney vehicles in tip top shape so we're ready to tackle any job at a moment's notice.
Give Bonney a call at 800-444-0551 for any and all your plumbing, sewer, drain, or HVAC needs. We'll bring our meticulously organized "warehouse on wheels" to every repair job for fast, efficient, quality service.