Bonney Named Assistance League's Community Hero
June 2, 2016
The Assistance League of Sacramento recently named Mark Bonney, of Bonney Plumbing, Heating and Air, Community Hero of 2016 at the chapter's annual meeting at the Northridge Country Club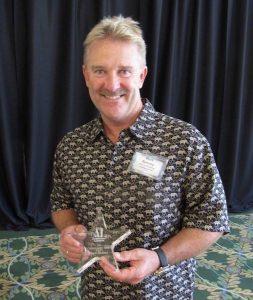 Mr. Bonney was recognized for his significant contributions to the rehabilitation of the new Assistance League Center of Sacramento on Fulton Avenue. Mark and the Bonney crew volunteered hundreds of hours on all aspects of plumbing related work. Mark and the certified premiere technicians at Bonney Plumbing, Heating and Air essentially re-plumbed the center! From the restrooms, and prep room, including the dishwasher, washing machines, water filters and sinks. One member, Sue Bost said, "After a while I began to recognize Mark from all sides as he was kneeling, bending, climbing, stooping, and crawling about the Center each day on his way to saving us 10's of thousands of dollars".
In addition to Mark's hands-on work for the Center, Bonney Plumbing, Heating & Air facilitated donations and discounts of materials and fixtures and installed them free of charge saving the Assistance League thousands of dollars. Bonney also facilitated and donated valuable warehouse storage space during the relocation.
In announcing the award, Mary McPherson, Vice President Resource Development said, "Mark's efforts helped us achieve a long-term rehabilitation of the Center that will serve Assistance League for decades to come".
Congratulations to Mark Bonney for being named Assistance League Community Volunteer of 2016!
Bonney Plumbing, Heating and Air was founded in 1978 and has been serving families in the Greater Sacramento region and beyond. Bonney believes in supporting the community and providing superior quality solutions for homeowners' plumbing, drain, sewer, water quality, heating and air conditioning needs. For over 35 years, Bonney established a rock solid reputation for their unmatched expertise and first-rate customer service. For more information, please visit https://www.bonney.com
Assistance League of Sacramento is a chapter of Assistance League, a national nonprofit organization formed in 1935. Locally, over 280 member volunteers operate eight community programs that impact more than 20 thousand lives each year in the Greater Sacramento area. For more information on Assistance League of Sacramento, contact by phone 916 488-0828 or alsacmail@gmail.com, or visit website, assistanceleague.org/sacramento/.