Bonney Plumbing Partners with The Salvation Army's Angel Tree Program
November 25, 2015
Local Plumbing Company Bonney Plumbing, Heating and Air is a leading sponsor for The Salvation Army's Angel Tree Program that goes through December 21st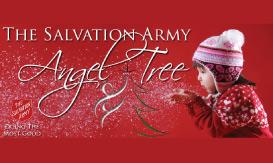 Bonney Plumbing, Heating and Air is excited to be partnering with ABC10 and The Salvation Army's Angel Tree Program to help make the season a little brighter for local families in need. Last year, The Angel Tree Program assisted over 9,000 families and 20,000 children in the community providing gifts, or new clothes and coats during the holiday season. The need is expected to be even greater this holiday season.
In order to ensure these families don't go without, Bonney is encouraging their employees, customers, and community to pick-up an Angel Tree tag and fulfill the wish of a child. "We help warm up family's homes every year, and this year we're happy to help warm a child's heart by bringing them some extra joy." said Allen Crick, President of Bonney.
Angel Tree tags will be available for adoption through December 21st at Bonney's office locations in Rancho Cordova and Pleasanton. By adopting an Angel Tree Tag, purchasing and returning the donation to a tree site or to any Bonney truck that drive through our neighborhoods every day, the wish of a local child will be granted.
"Bonney Plumbing, Heating and Air is celebrating its 38th Anniversary this year, which we could not have done without the support of our community. Our partnership with the Salvation Army's Angel Tree program is a wonderful opportunity to give back to our community through a fun and heartwarming tradition and say thank you." said Candace Bonney.
---
About Bonney Plumbing, Heating, Air and Rooter Service:
Founded in 1978, Bonney Plumbing, Heating, Air and Rooter Service has been serving families in the Greater Sacramento region and beyond. Bonney believes in supporting the community and providing superior quality solutions for homeowners' plumbing, drain, sewer, water quality, heating and air conditioning needs. For over 35 years, Bonney established a rock solid reputation for their unmatched expertise and first-rate customer service. For more information, please visit: https://www.bonney.com or follow Bonney at: http://www.facebook.com/MyBonney