Bonney Plumbing's HVAC System Donation Funds Clothing for 200 Children Next School Year
April 17, 2015
SACRAMENTO, Calif. (April 17, 2015) – Today, Bonney Plumbing, Heating, Air & Rooter Service began its project of installing new HVAC package units for the Assistance League of Sacramento. The Assistance League of Sacramento was recently able to purchase a new building, with the help of fundraising, in order to have a space that will be better suited for their needs.
Bonney has been a community supporter of the Assistance League of Sacramento for the past 2 years. The Assistance League of Sacramento supports 8 different philanthropic programs that make a difference in the local Sacramento community. Some of these programs include: clothing for homeless women re-entering the work force, providing clothing and books to elementary school children and providing scholarships to community college students. "We partner with the Assistance League of Sacramento because their programs truly make a difference in the community where we work and live," said Candace Bonney.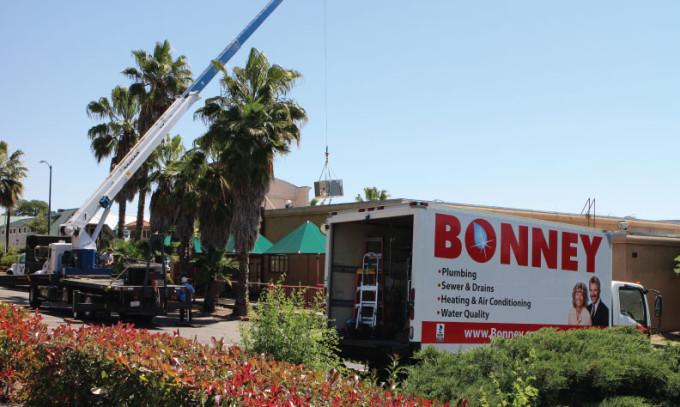 In March of this year, Bonney announced that it would be donating all of the labor for the plumbing systems in the new Assistance League Building.  Bonney was also in talks with the Assistance League about the donation of labor for the heating, ventilation and air conditioning systems as well. This week, Bonney donated all the labor and additional materials for the rooftop installation of the 2 HVAC systems for the building. Cranes lifted the commercial size package units on to the roof with a 5 man crew heading up the installation. The job was completed this afternoon. In addition to the donated labor, Bonney was able to work closely with vendors, including Ferguson and Heating & Cooling Supply, in order to get most of the fixtures and systems either donated or at cost for the Assistance League. According to Betty Lou, VP for Marketing and Communications of the Assistance League, the generous donation made by Bonney will result in $20,000 worth of savings for the Assistance League. This money will be used towards getting new school clothing to 200 additional impoverished children. Some of these children are from surrounding homeless shelters, including the one in Rancho Cordova.
ABOUT BONNEY PLUMBING, HEATING, AIR AND ROOTER SERVICE
Founded in 1978, Bonney Plumbing, Heating, Air & Rooter Service has been serving families in the Greater Sacramento region and beyond. Bonney believes in supporting the community and providing superior quality solutions for homeowners' plumbing, drain, sewer, water quality, heating and air conditioning needs. For over 35 years Bonney established a rock solid reputation for their unmatched expertise and first-rate customer service. For more information, please visit www.bonney.com or follow Bonney at www.facebook.com/MyBonney