Bonney Plumbing Attended the Shelter from the Storm Fundraising Breakfast Hosted by Volunteers of America
April 30, 2015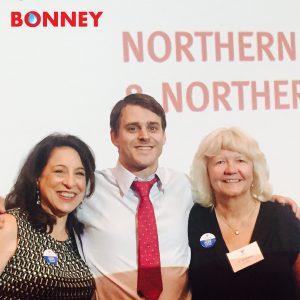 Today the Bonney Team attended the annual fund-raising breakfast event: Shelter from the Storm, hosted by the Volunteers of America. This breakfast is aimed at exemplifying the amazing programs that are offered by Volunteers of America and how businesses are able to get involved.
We are proud to be a business partner with the VOA and the opportunities that it has provided. We have been able to welcome six individuals from the VOA programs into the Bonney Team. One of these employees, Andrew Winter, was the featured speaker for the breakfast event this year. "Through Volunteers of America, I gained the tools to combat just about every issue that life, or my job throws at me. I was also given an immense opportunity with the help of VOA to work for an awesome company called Bonney. And here I get to experience what it feels like to be depended on…VOA looks for quality employers who are willing to hire the once homeless," Andrew stated in his speech.
Some of the fantastic programs offered by Volunteers of America are the Adolfo Program, which helps Foster youth with living and learning skills, the Homeless Veterans program, which helps military service members find employment and the STEP program, which helps qualified candidates find the best businesses to work for with their skill set. Bonney has been able to work with Volunteers of America and the STEP program in order to find the best candidates who demonstrate their hard work and commitment. We look forward to continuing our partnership with Volunteers of American for many years to come.
To find out more information on the STEP program offered by the VOA please visit: http://www.voa-ncnn.org/media-center.
Our partnership with the VOA falls under our Bonney Cares program. If you would like to learn more about our philanthropic efforts, please go to www.bonney.com/about-us/bonneycares.
---
For positions currently open visit: Employment with Bonney