Empty Bowls Event by River City Food Bank
March 8, 2015
Bonney Plumbing has participated in its Fifth Year at the Empty Bowls Event by River City Food Bank.
SACRAMENTO, Calif. (March 8, 2015) – Bonney Plumbing, Heating, Air and Rooter Service has partnered with River City Food Bank for its fifth year of service in the Empty Bowls Event that will take place on March 9th and 10th.
Bonney started working with the River City Food Bank as an effort to alleviate the vast number of people who go hungry in Sacramento County every year. This continued community partnership has included participating in the annual Empty Bowls event and the Harvest for Hunger, which takes place in September every year.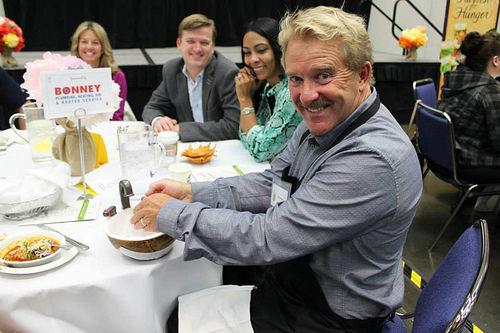 Mark and Candace Bonney will attend the Empty Bowls event for the evening meal on March 9th to be Honorary Servers. They have attended the past four Empty Bowls events in order to help serve and believe in the sustaining sponsorship that has been upheld with RCFB for five years. The soups were served in handcrafted bowls that were made specifically for the event by local artists. These bowls are meant to be a representation of those that go hungry and can be taken home by attendees as a reminder of the ongoing mission. At a previous event, Bonney received a handcrafted sink bowl for participation.
Bonney firmly believes in helping and assisting non-profits and charities that better the local communities. The Bonney Cares program is Bonney's philanthropic program that ensures the continued participation with important causes such as the River City Food Bank. To learn more about this program, visit bonney.com/bonneycares.
ABOUT BONNEY PLUMBING, HEATING, AIR AND ROOTER SERVICE
Founded in 1978, Bonney Plumbing, Heating, Air & Rooter Service has been serving families in the Greater Sacramento region and beyond. Bonney believes in supporting the community and providing superior quality solutions for homeowners' plumbing, drain, sewer, water quality, heating and air conditioning needs. For over 35 years Bonney established a rock solid reputation for their unmatched expertise and first-rate customer service. For more information, please visit www.bonney.com or follow Bonney at www.facebook.com/MyBonney