First Home Match at Bonney Field Moved to June 20
May 14, 2014
Match Four versus Arizona United SC will be held at Hughes Stadium on June 7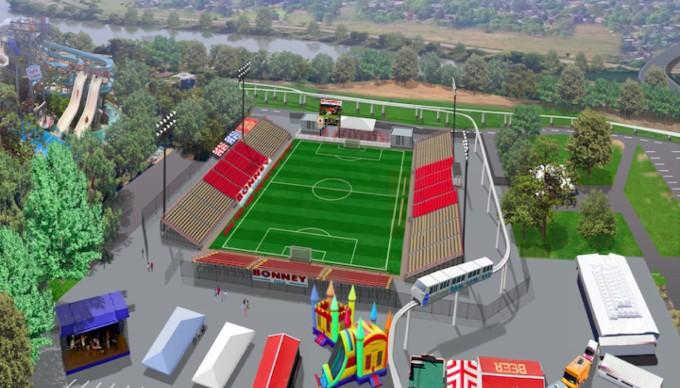 Sacramento Republic FC and Ovations Food Service will open Bonney Field at Cal Expo for its first match on June 20 when Republic FC plays Colorado Rapids Reserve. As a result, Republic FC's fourth home match on June 7 will be held at Hughes Stadium on the campus of Sacramento City College. Tickets for the June 7 match will go on-sale next Tuesday, May 20 via Ticketmaster.com.

"Even before the first shovel was in the ground, we knew it would be a tight timeline to open a full pitch field at Cal Expo," said Republic FC President Warren Smith. "Otto Construction, Cal Expo, various vendors and inspections agencies tied to the construction and development of the facility have been amazing. We still anticipate the completion of Bonney Field around the first week of June, but will be cutting it too close to provide the experience we want for our fans and players that are counting the days to that first match on our very own full pitch."

The June 7 match, originally intended as the home opener of Bonney Field, will instead take place at Hughes Stadium which has served as a temporary field for Republic FC during Bonney Field's development. Republic FC smashed league records with a sold out crowd on April 26 and recorded another league-leading crowd of 17,414 on May 3. By hosting a fourth match at Hughes Stadium, soccer fans throughout the region will have an additional opportunity to attend a match at Hughes Stadium before the club moves into the more intimate Bonney Field at Cal Expo.
Formerly known as the Cal Expo Multi-Use Sports Field Facility, Bonney Field will be an approximately 8,000-seat facility on the grounds of Cal Expo with a "full soccer pitch" or 120 x 80 yard field – one of the largest in the country for a professional soccer club. Construction of the facility began in March 2014 following approval by the Cal Expo Board of Directors. The approximately $3 million privately funded facility is a collaboration among Ovations Food Service, Republic FC and Cal Expo. Progress on the site may be viewed live via time-lapse camera at: http://oxblue.com/open/ovantionsfanfare/calexpo.
The revised opening date will not affect the June 21 USA Rugby vs. Canada Rugby match hosted at Bonney Field. The match is USA Rugby's debut in Sacramento, Calif. and will position the region on an international stage when broadcasted live on NBC Universal. Additional details and tickets are available at usvcanadarugbymatch.com. Single match Republic FC tickets for Bonney Field will go on-sale June 12 through Ticketmaster.com. Based on the current capacity and large percentage of season ticket holders, less than 1,000 seats per match will be available for single match sales at Bonney Field. For a full schedule and additional details, visit SacRepublicFC.com.