Bonney Plumbing, Heating , Air & Rooter Service Announces Facility Naming Rights with Sacramento Republic FC Stadium
April 21, 2014
News Update: First Bonney Field Match Moved to June 20 Click Here to Read More
Bonney Plumbing, Heating , Air & Rooter Service Announces Facility Naming Rights with Sacramento Republic FC Stadium
Bonney Field will be home pitch for USL PRO Club in multi-year deal.

SACRAMENTO, Calif. (April 21, 2014) – Sacramento Republic FC announced today the naming of its new facility at Cal Expo as Bonney Field, in partnership with Bonney Plumbing, Heating, Air and Rooter Service. The multi-year partnership between both Sacramento-based companies not only highlights successful and growing enterprises of local origin, but also provides a solid foundation for enhancing the civic amenities of the region and elevating entertainment options for a diversity of audiences. Pending construction timelines, Republic FC and Ovations Food Service will open Bonney Field on June 7 when it plays Arizona United SC.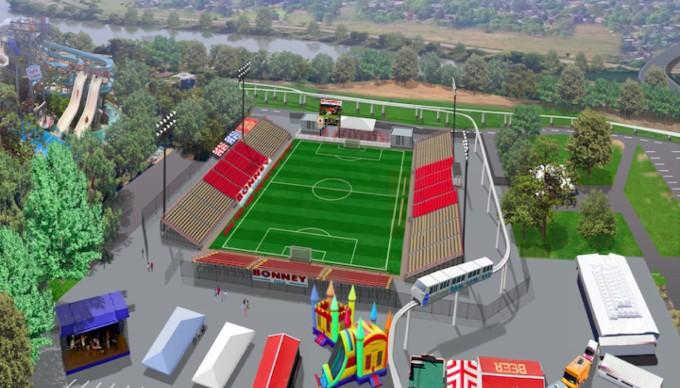 "We are invited into the residences of customers throughout the region on a daily basis. We feel a strong connection to the community, and we are dedicated to creating a positive, family-like atmosphere for our team of employees, as well as empowering them to treat our customers like part of the Bonney family, too" said Jimmy Crabbe, CEO and co-owner of Bonney Plumbing, Heating, Air & Rooter Service. "Sacramento is going through an exciting renaissance. Like our Indomitable City, Bonney Plumbing, Heating, Air & Rooter Service started in Sacramento and grew from humble beginnings in 1978 – offering a full portfolio of services to make everyone's home a wonderful place to share memories. Our relationship with our customers goes back 36 years. Bonney Field is an opportunity for us to support the community and make Sacramento an even greater place to live."

Formerly known as the Cal Expo Multi-Use Sports Field Facility, Bonney Field will be an 8,000 seat facility on the grounds of Cal Expo with a "full soccer pitch" or 120 x 80 yard field – one of the largest in the country for a professional soccer club. Construction of the facility began in March 2014 following approval by the Cal Expo Board of Directors. The approximately $3 million privately funded facility is a private-public collaboration among Ovations Food Service, Republic FC and Cal Expo. Progress on the site may be viewed live via time-lapse camera at: http://oxblue.com/open/ovantionsfanfare/calexpo.
Bonney Field will serve as the host site of the June 21 USA Rugby vs. Canada Rugby match, which will be nationally televised on NBC Universal. The match is scheduled to start at 3:00 p.m. Additional details are available at usvcanadarugbymatch.com.
"Doesn't matter if it is on the pitch or in the boardroom, you are only as strong as the people that surround you," said Republic FC President Warren Smtih. "We couldn't have a better partner, a better teammate, in Bonney Plumbing, Heating, Air & Rooter Service. Bonney Field will be a gathering place synonymous with memories, entertainment and the best soccer players in the country. It is only fitting for it to embody the name of a one of our region's most respected and long-standing businesses."
The multi-year naming rights arrangement will consist of a variety of marketing elements beyond the naming of Bonney Field. Bonney will be featured on various marketing materials, advertising in broadcasts, signage at the site and in a series of promotions and events. Bonney and Republic FC also will collaborate on a variety of community activities, including brining youth and families to matches.
 ABOUT SACRAMENTO REPUBLIC FC
Sacramento Republic FC is an expansion franchise of USL PRO. The club launched its inaugural season on March 29, 2014, and it will host its home matches at the 8,000-seat Bonney Field located on the grounds of Cal Expo (first three matches will be held at Hughes Stadium). The club's commitment to position Sacramento as an "indomitable city" is evident through its community investments and efforts to procure an MLS franchise by 2016. The club has taken steps to build the franchise with the highest caliber of talent, both on and off the field, for its inaugural USL PRO season including the hiring of head coach Predrag "Preki" Radosavljevic. It is also the only USL PRO club with two MLS affiliates – San Jose Earthquakes and Portland Timbers. The club's motto is urbs indomita – Indomitable City. Indomitable Club. For more information, visit SacRepublicFC.com or follow the club at https://www.facebook.com/SacRepublicFC and @SacRepublicFC
 ABOUT BONNEY PLUMBING, HEATING, AIR AND ROOTER SERVICE
Founded in 1978, Bonney Plumbing, Heating, Air & Rooter Service has been serving families in the Greater Sacramento region and beyond. Bonney believes in supporting the community and providing superior quality solutions for homeowners' plumbing, drain, sewer, water quality, heating and air conditioning needs. For over 35 years Bonney established a rock solid reputation for their unmatched expertise and first-rate customer service. For more information, please visit www.bonney.com or follow Bonney on Facebook.