Bonney Plumbing, Heating and Air Recognized as an A+ Employer
November 2, 2010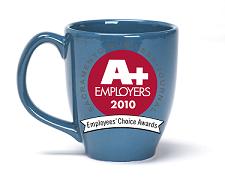 Sacramento, CA –
Bonney Plumbing, Heating and Air has earned the top award for the Sacramento Business Journal's A+ Employers 2010 Employee's Choice Awards in the 50 – 150 employee category. The award was presented to Mark and Candy Bonney at the fifth annual event luncheon held at the Doubletree Hotel in Sacramento October 21st.
The A+ Employers 2010 Employee Choice Awards honors the best employers in Sacramento based on anonymous staff survey results conducted by an independent firm, Quantum Workplace. The winning businesses are selected from the tabulated rankings of the employee's surveys which rank the employer in areas such as team effectiveness, retention risk, alignment with goals, individual contribution, and manager effectiveness. Bonney Plumbing, Heating and Air's 58 employees' rankings scored their employer 96.86 out of 100, topping the scores for employers in the Medium Companies category.
When Mark and Candy received the award, Mark commented, "I was really pleased that the employees appreciate the benefits they have here."
Bonney Plumbing, Heating & Air has been serving the greater Sacramento area since 1978 when Mark Bonney obtained his contractor's license. The company has grown substantially serving thousands of customers each year with a variety of residential and commercial services. This year, Bonney Plumbing, Heating and Air has begun to offer home performance retrofits, solar, insulation and windows.
Mark and Candy's philosophy about employment is that if the employees are treated well, then the customers will be treated well. "It translates down to the customers." Mark says, "If we are fair and honest with our employees then customers can trust that we are fair and honest with them as well."
Craig Warriner, a plumber for 22 years and a Bonney employee for 6 years says the company's medical plan is at the top of his most-appreciated benefits list. "We have full-ride medical for me, my wife and two kids – with no deductibles. That's huge." Because of the company's exceptional reputation and commitment to advertising, there's never been a shortage of work, he added.
Craig is an example of the top notch technicians that Bonney is able to retain through the exceptional benefits and positive work environment. Mark Bonney agrees, "I honestly feel that we have the best team we can put together." However, customers are the ones who benefit the most from Bonney's treatment of employees. Outstanding customer service and quality craftsmanship permeate all of the services that Bonney performs.
Happy employees do make happy customers. To experience this for yourself, contact Bonney Plumbing, Heating and Air at 800-444-0551 or www.bonney.com .