Heating & Furnace Repair Sacramento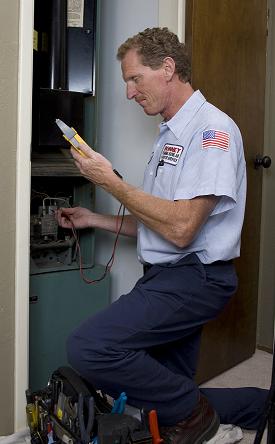 Furnace Repair and Replacment
The experienced HVAC technicians at Bonney are ready to help with all your heating and air conditioning needs. 
Unsure about whether you need to repair or replace, then check here for details or call today to have our experienced technicians diagnose your heating & air problems.  We offer Free Estimates on new or replacement heating & air systems and affordable financing plans.  Click here for more financing information or give us a call to schedule your appointment today 800-444-0551!
In addition to being an A+ rated member of the Better Business Bureau, Bonney is a recognized dealer for all brands of heating and air conditioning equipment, not just one, so you get the brand that fits your home best. The quality, high-value brands we offer include, but are not limited to Rheem, Lennox, Bryant, Amana, Trane and Honeywell. You need comfort, reliability, and efficiency.  So you don't freeze, your system doesn't break down, and you save money!
Reliability
Nothing is worse than your furnace breaking down in the peak of a Sacramento winter.  Obviously a new furnace is the most reliable and of course, Bonney installs new gas furnaces. Short of a new furnace, Bonney offers furnace repairs and maintenance to keep your heater running at peak efficiency.  Whether we do a repair or install a new system, Bonney offers industry leading warranties to protect your investment & give you peace of mind.
Comfort
New furnaces provide more comfort than older ones.  Why?  First, variable speed fans provide the right air flow, at the ride speed, for maximum comfort.  Second, a new zoning system can provide the right temperature, to the right room, at the right time.  Third, new thermostats, allow the control you need to keep your home at the temperature you want.  Portable, wireless controls, internet access and smart phone apps all provide unprecedented comfort options.  Fourth, new furnaces are available in multiple stages, allowing your furnace to work like the transmission in your car.  A modulating gas valve can open at exactly the right location only creating the amount of heat you need for your home at that moment; the ultimate in comfort!
Efficiency
An efficient furnace means money in your pocket.  A new furnace, packed with modern technology, is always more efficient than an old one.  New technology includes variable speed fans, modulating gas valves, and fantastic thermostats!  These technologies working together provide only the amount of heat needed to keep your home at the temperature you desire.  Using only the amount of gas and electricity needed, without waste, is very energy efficient.  But, simple things can be done to keep your current gas furnace operating at its peak!  First, try Bonney's Automatic Maintenance (BAM) Plan, designed to keep your system running at maximum efficiency.  But, if you've let your system go too long with the wrong filter or just haven't changed it, your blower assembly and motor can be impacted with dirt, decreasing its efficiency.  Bonney's duct cleaning service includes equipment cleaning, so that your furnace can run as efficiently as possible, saving you money!
We serve the heating needs of homeowners and businesses in the local region including American Canyon, Antelope, Arden, Auburn, Cameron Park, Carmichael, Citrus Heights, Colfax, Davis, Dixon, El Dorado Hills, Elk Grove, Elverta, Fairfield, Fair Oaks, Florin, Folsom, Galt, Gold River, Granite Bay, Grass Valley, Herald, Laguna, Lincoln, Lodi, Loomis, Mather AFB, McClellan AFB, Meadow Vista, Napa, Natomas, Newcastle, North Highlands, Orangevale, Penryn, Placerville, Rancho Cordova, Rancho Murieta, Rescue, Rio Linda, Rocklin, Roseville, Sacramento, Shingle Springs, Stockton, Vacaville, Vallejo, West Sacramento, Wilton, Woodland and points in between. Click here for a full list of our service areas.
We charge by the job… so you know the cost before we start!
---
---
---
---
---