Window Replacement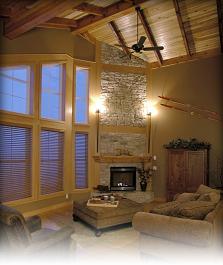 Not only are windows a very important part of your home's aesthetics, they play an important role in a energy efficient home
Small leaks in old windows can add up to a large air infiltration issue, which can cause significant energy loss.  As well, single pane windows and windows with high emissivity allow unwanted temperature changes through convection and radiation.  These issues, which create high utility bills, can be resolved through the installation of new, Energy Star Amerimax windows.

Bonney proudly installs Amerimax windows and doors because they are recognized by the National Fenestration Rating Council as being extremely energy efficient. The Ameriglass™ E2 Insulated Glass System features low emissivity glass coated with dual microscopic layers of silver, combined with TrueWARM® Structural Foam Spacer, and Argon gas fill to create a dual sealed glass unit with superior energy efficiency and long-term durability.  As well, these windows provide maximum UV protection, superior condensation resistance, reduced sound transmission, and long term durability.  An industry leading lifetime warranty with window breakage protection is included in every Bonney window installation.
Amerimax windows are custom made in many, many styles including bay windows, shaped windows and beautiful doors.  Factory installed pet doors are also available.  Bonney technicians will help you select the best colors, glass types and grid patterns to best match your home's appearance.  For more details on technical information or product styles, visit the Amerimax website.
Call Bonney Plumbing, Heating and Air and make an appointment for a Home Performance evaluation that includes windows, or a free estimate for window replacement in your home.
[do action="bonney-video" bnvideourl="nJlyecxxmyM" bnvideocaption=" " bnvideowidth="700″ bnvideoheight="350″ bnvideoalign="clr"/]