Thermostats
The application of technology in thermostats has created huge changes in their ease of use and comfort for the home owner. Bonney Plumbing, Heating & Air offers a variety of thermostats from Emerson, Honeywell, and EcoBee. From the simple, old style round thermostat, to the highest tech HD control; Bonney has a thermostat to satisfy any customer.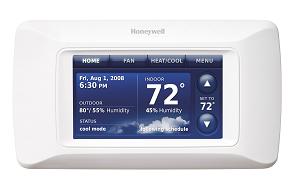 Prestige HD:
The ultimate in comfort, control, beauty and ease of use are all wrapped together in Honeywell's Prestige HD thermostat. Its high definition full color display provides easy to use information including outdoor and indoor temperature and humidity. It has the easiest, interview based programming options including vacation mode and temporary program overrides. It contains programmable reminders including filter change, UV bulb change, service reminders, and your wife's birthday (if you wish). The Prestige seamlessly controls indoor air quality products including, ventilation, UV lights, humidifiers and dehumidifiers. Amazingly, the thermostat can also understand what tier of billing your electric utility is charging you (if your utility is "smart grid" enabled) and adjust your usage accordingly. Bonney highly recommends the Prestige HD for its beauty, control and ease of use.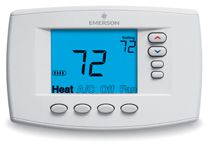 EZ Reader:
The Emerson EZ Reader thermostat features large numbers on a glowing blue background that are very easy to read. As well, the controls are simplified with basic switches for ease of use. The EZ Reader can be used for almost any heating and air system, basic or complex, at a price that is very affordable.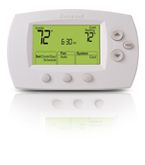 FocusPro:
America's most popular thermostat is the Honeywell FocusPro thermostat. This thermostat is a flexible programmable thermostat that can be used to operate almost any heating and air system. Its attractive green background is appealing to the eye, but doesn't call attention to itself. Honeywell is known for producing accurate, reliable thermostats and Bonney can install the FocusPro at your home for a very reasonable cost.
Portable Comfort Control:
Honeywell also offers a portable remote control for your heating and air system called the Portable Comfort Control. It can be used with many Honeywell thermostats including the FocusPro and Prestige HD. It can also be used to control zoning systems, multiple heating and air systems, and other buildings nearby.
Enviracom:
The Honeywell Enviracom system is a digital thermostat system that allows systems to be monitored and controlled via telephone, computer, or smart phone apps. For second homes, cabins, or multiple business locations, this system can alert you through text or email if a pre-determined situation arises. For example, an increased humidity alert could notify you of a possible broken pipe. A low temperature alert could warn of freeze danger. The system also allows for defined and limited user access for protection and efficiency.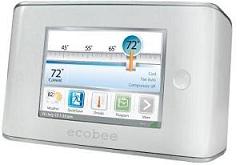 Ecobee:
The Ecobee thermostat is an internet integrated thermostat that allows for remote operation. However, it also receives internet information to display the weather at your home. You can know how to dress for the day and plan your week! Also, you can monitor your system's efficiency and make temperature adjustments for peak performance. If you're going on vacation and leaving pets at home, you can monitor the temperature of your home from an internet connected computer to be assured of their comfort and safety. Allow Bonney to install an Ecobee in your home today!