Temperature Zoning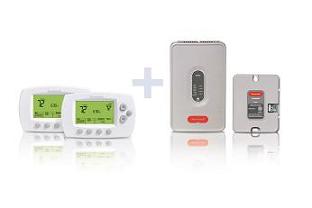 Are some areas of your home hotter or colder than others, like upstairs and downstairs? A Bonney temperature zoning system allows you to have the temperature you want, in the place you want, when you want it. In other words, you can have different temperatures in different rooms of your home. Or, if you have a hard time keeping all rooms at the same temperature, the Bonney zoning system allows your whole home to stay comfortable.
Need:
Different areas of your home can be hotter or cooler than the rest of the house for various reasons. For example, a bedroom above a garage seldom is insulated in a way that provides a comfortable living environment. Rooms with large single pane windows can lose or gain temperature changes through the windows. Some areas of your attic may not be insulated as well as others. A Bonney zoning system can provide more cooling or heating to those problem areas without affecting the rest of your home.
How it Works:
Areas of your home with different needs are broken up into different areas called zones. For example, the master bedroom, the kids' bedrooms, the living room, and the kitchen could be designated separate zones. Each zone then receives a thermostat that monitors and controls the temperature in that zone. Powered dampers are installed in the duct work that leads to each of these zones. Through an electronic control board, the thermostats operate the heating and air conditioning equipment and the dampers to deliver the correct temperature air to the zone that needs it, creating independent comfort. Among other quality brands, Bonney prefers Honeywell equipment.
Control:
The Bonney zoning system can be controlled in a number of ways. Temperature can be controlled at each individual thermostat. Or, a portable wireless remote control can monitor and control the temperatures in each zone. For example, you can watch TV in your downstairs living room. When you wish to go upstairs to bed, you could check the temperature of the master bedroom thermostat and adjust it by using the portable remote. Or, you can keep the remote on your headboard to adjust the temperature of your room without leaving your bed. The remote also can work with other systems nearby. So, if you have out buildings or a mother-in-law unit that you wish to control from your home, all areas can be controlled from one remote. Other systems are available that allow you to control the zones from a computer, via the internet, from a touch tone phone, or smart phone apps. The remote can also control multiple systems at one location.
Commercial:
If you manage a building with multiple systems, or simply multiple zones, each area can be "locked out" so that the system can only be controlled by the remote, providing you with total control. As well, Bonney installs systems which can monitor and control multiple buildings in various locations, at a much more reasonable cost than typical commercial controls. This type of system can not only provide you with control, but can save you money by monitoring each system and operating them at peak efficiencies.