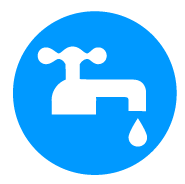 Placerville CA Plumbers
Reliable, experienced, certified premier plumbers
We charge by the job, so you know the cost before we start.
Our plumbers are drug screened and background checked for your safety
Plumber Placerville, CA
When you have a plumbing problem, the last thing you want is untrustworthy service providers who do poor work and do not provide great customer service. That's why if you're in Placerville, CA, the choice is Bonney Plumbing. We can handle any plumbing service you need, and our plumbers will do it with a smile.
Each one of our experts is extensively trained, fully licensed, and insured. You are protected against any accidents, and you are assured a friendly professional plumber to help you with your problem. At Bonney, we believe that the customer is always right, and we are never satisfied until the client is.
Water Heaters Placerville, CA
Water heaters have a big job. They provide hot water to the building on a moment's notice. Unfortunately, they can fail at times. Bonney is the area's water heater expert destination. All of our plumbers keep up to date on new technologies and trends and have a wealth of knowledge to work on any water heater, no matter what type.
Standard Water Heaters
In Placerville, the vast majority of homes and businesses have a standard water heater. It stores water and keeps it hot until it is used for showering or washing dishes. There are several types of standard water heater, and Bonney can provide service for them all. We can also give you expert advice and guidance on purchasing a new water heater.
Tankless Water Heaters
Newer technologies have allowed for a more recent type of water heater to gain popularity: the tankless water heater. It never runs out of hot water because it heats water as it is used. There is no tank, so it uses up less energy by not having to keep water heated at all times. That means that your energy bills will thank you for purchasing a tankless product. Call Bonney today to discuss your options.
24 Hour Plumber Services
A plumber is never far away if you choose Bonney. We offer an emergency service line that is available every hour of every day. There's no need to wait until the morning if you have a plumbing mishap in the middle of the night. Just call the number and a dedicated plumbing professional will be at your door in no time to address your emergency and mitigate the damage.
Plumbing Inspections
It's best not to wait until that emergency call to have a professional have a look at your plumbing system. That's why investing in inspection and maintenance services is so important. We can have an expert inspector evaluate your system on a regular basis so that you can have the peace of mind in knowing that your system is running smoothly. Not only, that, but paying for inspections will be much more cost-effective than paying for a large repair down the road.
Pipe Replacement
Pipe replacement is a job that is best left to professionals. It is a big job since it involves removing rusting and deteriorated pipes and replacing them with new ones. It requires planning and strategy to make sure that it is done correctly. If your water pressure has suddenly dropped, or if you have strange odors coming from your water, your building may need repiping. Call Bonney today to have a technician assess the situation and get started on replacing your pipes.
Drain Cleaning
Drains need to be cleaned every now and again. Substances, debris, and other materials can build up and prevent water from flowing properly. If you have a clog that seems to keep occurring, then call Bonney to have a clog expert come to thoroughly clean your drain. This will remove anything that's built up so that you will stop having clogs.
Sewer Line Service
The sewer lines may be the most important pipes connected to any building. A major purpose of modern plumbing is to allow people to use the bathroom and clean themselves while still making sure the used water does not stay in the building. Sewer lines can get damaged by outside factors, such as shifting soil, tree roots, and extreme temperatures, and they can also get clogged. Bonney's sewer line experts can provide full sewer line services to make sure that they are keeping that dirty water away from your home or business.
Hydro Jetting
There may be no more powerful tool in a plumber's arsenal that a hydro jet. It blasts water through the pipes to clean them out an flush out debris and built-up gunk. The technician will attach the hydro jet to the plumbing system, and then flush it out for a period of time that depends on your pipes and the possible level of dirtiness.
Plumbing Products and Brands
For when you want to fix something yourself, Bonney offers a great selection of products and tools to make your next plumbing project a success!
Bonney carries a wide assortment of plumbing products and appliances as well. Call our team of experts to help you choose the right equipment for your next project.