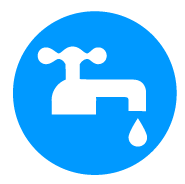 Newcastle CA Plumbers
Reliable, experienced, certified premier plumbers
We charge by the job, so you know the cost before we start.
Our plumbers are drug screened and background checked for your safety
Plumber Newcastle, CA
The plumbers at Bonney are proud to provide the residents of Newcastle, CA with the best plumbing services in the business. Our experts can handle any drain clogs, leaks, water heater service and installation, toilet clogs, leaky faucets, and everything else under the sun when it comes to plumbing.
We staff only the best plumbing professionals who pass background checks and drug tests. You can lay your head at night knowing that you are in excellent hands with our plumbers. Each one is also fully insured in case of any accidents that might happen on your property.
Water Heaters Newcastle, CA
Water heaters are a big part of the day to day life of any family. Hot water helps with showers, dishwashing, clothes washing, and much more. To prevent having issues with your water heater, call us at Bonney to have a technician inspect, maintain, and possibly repair your unit as well. We can work on both standard and tankless water heaters.
Standard Water Heaters
There is a good chance that your home or business has a standard water heater if it has not been replaced in recent years. This means there is a large tank that holds and heats the water until it is ready for being used. Bonney's professional plumbers can work on any type of standard water heaters, and if you are thinking of replacing your current one, call one of our experts for guidance.
Tankless Water Heaters
As the name would suggest, tankless water heaters do not use a tank to store hot water. A tankless unit heats up water as it comes into the building, so you will never run out of hot water in the middle of a shower. Tankless water heaters have a reputation for lasting longer and being better with energy than traditional heaters. If you would like one installed in your building, call Bonney and discuss with one of our representatives.
24 Hour Plumber Services
You can always reach a Bonney plumber. We have a dedicated emergency line that is open 24 hours a day, 7 days a week. A plumbing disaster could happen in the middle of the night, or in the middle of the day, and we will be able to get a plumber to your door as soon as possible to address your issue.
Plumbing Inspections
The best way to avoid needing the emergency line is to sign up for plumbing inspection services. A trained professional from Bonney can examine and evaluate your entire plumbing system to identify any issues that there might be. If there is something wrong, or something that could develop into a problem, then the technician can quickly and easily fix it. That way, you have a professional keeping an eye on your plumbing system before you end up with a puddle on your floor or drips coming from your ceiling.
Pipe Replacement
Have you suddenly had a drop in water pressure? Does your water look, taste, or smell strange? If so, then it might be time to replace the pipes. Pipes can wear down over time, and at some point they will stop properly containing water or leaching contaminants into the water. Bonney has repiping specialists who can remove all of the old pipes and replace them with brand new ones.
Drain Cleaning
Do you find that you have a sink or a tub that gets clogged up all the time? Do you clear the clog, and then within a few weeks it happens again? This might be because you have a buildup in your drain that is only being partially moved away when you use your liquid plumbing product. A Bonney clog expert will not just take care of the clog, but also clean out your drain so that the buildup is completely gone.
Sewer Line Service
You never want to have issues with your sewer lines. They do the important job of taking dirty water out of your home and directing it to the sewer system. We have specialists who can inspect your lines on a regular basis to make sure the water is flowing properly. If there is an extreme temperature fluctuation, or if the soil around your lines has shifted, then you could be in store for some serious problems.
Hydro Jetting
Hydro jetting may be the most effective way to clear a clog. This means sending a flow of water through the pipes under high pressure. It will push through any barrier and scrape the sides of the pipes to clean them off. It works extremely well, however it should only be attempted by a trained professional. Hydro jetting can damage older pipes and the operator could get injured.
Plumbing Products and Brands
If there is a plumbing issue you can handle yourself, then Bonney is here to help with that, too! Call us today to see what products or equipment we have in stock that will make your next DIY plumbing project a success.