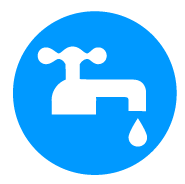 Fairfield CA Plumbers
Reliable, experienced, certified premier plumbers
We charge by the job, so you know the cost before we start.
Our plumbers are drug screened and background checked for your safety
Plumber Fairfield, CA
Residents of Fairfield, CA should call the best place for all of your plumbing needs. That place is Bonney! Our expert plumbers can handle anything your plumbing system throws at them, from clogged toilets, to water heater installation, to leak detection, to drain cleaning, and much more. When it comes to plumbing, we can do it all.
At Bonney, we want to be the most trusted plumbing service provider in Fairfield. That's why all of our technicians are background checked and drug tested. They are all fully licensed and certified as well, so you are protected against any accidents. For the most trusted, professional, and skilled plumbers, call Bonney today.
Water Heaters Fairfield, CA
Every home and business has a water heater, so it's a big part of our business. We are the experts in the area when it comes to installing, maintaining, and repairing water heaters. Our experts are always up to date on new technologies and can fix any heater no matter what age, brand, or type.
Standard Water Heaters
Most homes and businesses in Fairfield have a traditional water heater that uses a tank to heat and store water. Once the water is needed, it is ready to go and the tank dispenses it. Once the hot water runs out, the tank will automatically refill. It's a simple system, but there are many components involved and many different types of standard water heaters. We can fix any type, and also help you choose a new one based on your needs.
Tankless Water Heaters
The new trend is to install tankless water heaters when replacing an old one. A tankless heater provides several benefits over traditional ones. For instance, since there is no tank, there is no wasted energy keeping water warm. It gets heated as it is needed. Since there are fewer components, they usually do not need repairing as often, and they last longer. On top of that, you never have to worry about running out of hot water. Call Bonney today if you need help with a tankless water heater, or if you want to discuss if one is right for you.
24 Hour Plumber Services
Plumbing emergencies happen all the time. Sometimes they happen on quiet Sunday afternoons, and sometimes they happen in the middle of the night. No matter when one happens to you, with Bonney's 24-hour emergency services line, you will never be out of reach of a plumber. Simply call the emergency number and a plumber will be dispatched as quickly as possible to your home. Plumbing problems will only get worse, and we understand the need to have problems addressed quickly.
Plumbing Inspections
The best way to avoid making any emergency calls is by having a licensed plumbing professional inspect your plumbing system on a regular basis. This will allow them to identify any potential issues and rectify them right away. If small things are left to their own devices, they can become major problems. You do not want the first time a plumber sees your plumbing system to be the same time that they are there to repair a burst pipe or a backed-up sewer line.
Pipe Replacement
Replacing pipes is not as simple a process as it might seem. It involves careful planning and careful and precise execution. Do not try it yourself. Bonney's expert plumbers can remove old pipes that have deteriorated with time and install new ones in their place. You have noticed that your water is a rusty color, or that your water pressure has dropped significantly. These could be signs of failing pipes.
Drain Cleaning
Drains get clogged all the time. In many cases, it's because debris has been allowed to build up in the drain until it is simply too blocked up to allow water to go through. Sometimes you can clear a blockage yourself, but there may be other times when a professional from Bonney is needed. We are the clog experts and will remove the blockage and fully clean out the drain so that debris can't continue to collect.
Sewer Line Service
You do not want to have issues with your sewer lines. If a sewer line gets clogged, then you could end up with raw sewage backing up into your home. Not only does this create an unsightly mess, but it is also a health hazard. Bonney plumbers can inspect and maintain your sewer lines, as well as repair any problems that they might have. Shifting soils and extreme temperatures can cause havoc with your lines, so it's best to keep an eye on them.
Hydro Jetting
For some of those stubborn clogs, our technicians may need to use a hydro jet. This piece of equipment will put water under high pressure to blast through blockages and get water flowing properly again. It's important to have the proper training to operate a hydro jet since incorrect use can lead to injury and damage to pipes.
Plumbing Products and Brands
Bonney carries a wide assortment of plumbing products and appliances as well. Call our team of experts to help you choose the right equipment for your next project.