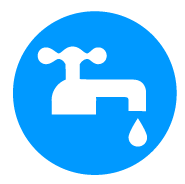 Elk Grove CA Plumbers
If you're looking for plumbing services near you in Elk Grove, California, Bonney can help. Our certified plumbers can provide a full range of plumbing services, such as fixture and toilet installation, clog removal, and sewer line service. As you consider receiving plumbing services from Bonney, learn more about our many services and why our plumbers will provide you with exceptional service.
What to Expect From Our Elk Grove Plumbers
You can trust the plumbing specialists at Bonney. Our team undergoes drug testing and background checks so that our customers can feel safe and confident when we enter their homes. Our plumbers are also fully licensed, certified, and insured, meaning you're covered if there is any damage while they are on your property. With Bonney, you are in safe and reliable hands. Some of the highlights of receiving plumbing services from Bonney include:
Reliable, experienced, certified premier plumbers
We charge by the job, so you know the cost before we start
Our plumbers are drug-screened and background-checked for your safety
Water Heating Services in Elk Grove, CA
Every home and business has a water heater. That is why we strive to be the water heater experts in the Elk Grove area. We install, repair, and maintain them. Our experts keep themselves trained on any water heater advancements, so we always have the most up-to-date information. Find out more about our water heating services below: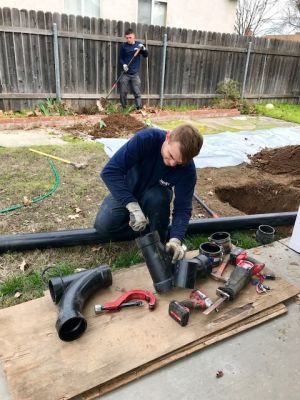 Standard Water Heater Repair and Installation in Elk Grove, CA
Standard water heaters employ a tank that heats and stores the hot water until it is ready to be used. This is the kind of water heater that is installed in the vast majority of homes. Despite this simplicity, there are still a lot of options out there that depend on the size of the household, usage patterns, and budget. With our standard water heater services, we can help you select the right standard water heater for you, install it, and provide repairs and maintenance.
Tankless Water Heater Repair and Installation in Elk Grove, CA
If you're interested in a more energy-efficient water heater that provides on-demand hot water, you might want to consider a tankless water heater. Unlike standard water heaters, tankless models don't use a storage tank and are designed to heat the water on command.
This design makes them more energy efficient and makes it so homes never run out of hot water. Plus, it is a simple system, so it is more durable. When you turn to Bonney for tankless water heater services in Elk Grove, we can help you select a gas or electric model from a trusted brand, remove your old water heater from your home, and install the new one for you. We can also provide maintenance or repairs to maximize your tankless water heater's lifespan.
Our Plumbing Services in Elk Grove, CA
Alongside offering water heating services, we provide several plumbing services to the Elk Grove community. Whether you need an emergency plumbing repair or a drain cleaning, our certified plumbers can handle it. Learn more about our many plumbing services below:
24-Hour Plumber Services in Elk Grove, CA
Bonney provides 24-hour plumbing services every day of the week. Since we know emergencies can happen at any time, we pride ourselves on being available to help our Elk Grove customers whenever that may be. To avoid these unpleasant plumbing emergencies, consider getting an annual inspection to catch little problems before they can develop into major catastrophes.
Plumbing Inspections in Elk Grove, CA
Our plumbing inspectors can provide you with an extensive evaluation of your plumbing system to identify and repair any weaknesses and issues. There are many issues that simply aren't easily caught by the average homeowner, and there are problems that only an expert will catch. It is important to catch them early so that they can be rectified. With our plumbing inspections, you sleep easy knowing that your plumbing system is running smoothly and safely.
Pipe Replacement in Elk Grove, CA
Over time, pipes will deteriorate, and you will notice a drop in the quality of your water and in your water pressure. This is especially common in older homes that still have their original pipes. Once your pipes have started deteriorating, then you should have them replaced as soon as possible. Since pipe replacement is a big and complicated procedure, you should leave it to professionals. Call Bonney, and we will send a plumbing expert who can provide repiping services safely and efficiently.
Drain Cleaning in Elk Grove, CA
Most clogged drains can be fixed with a simple liquid plumbing product or a plunger. However, there are some clogs that simply won't clear. When you can't remove a clog on your own, our drain cleaning services have you covered. After you contact us, our team will inspect your lines with a specialized camera, share the results with you, and quickly remove the blockage with professional-grade drain cleaning equipment. A clogged drain can happen at any time, so our professionals are available 24/7 to help make your water run freely again.
Sewer Line Service in Elk Grove, CA
It is important never to take a sewer line for granted. If a problem in a line goes undetected, then you may end up with a messy surprise backing up into your home. Whether your line has been damaged from shifting grounds, extreme temperatures, aging, or even encroaching tree roots, our team can provide a solution for you.
If you suspect you have an issue with your sewer line, our team can inspect it with a specialized camera and find the source of the damage. Unless the pipe is severely damaged, we can provide a trenchless repair or replacement service to fix the problem quickly and prevent the need to dig up your yard. 
When the problem is too severe for a trenchless method, we can perform a standard sewer line replacement, where we'll remove your old pipes and replace them with new ones as fast as possible. Since sewer line problems can be costly and harm your quality of life, we're also happy to provide routine inspections to catch problems early before they can get worse. 
Hydro Jetting in Elk Grove, CA
Your lines and pipes can get blocked by any number of things, such as grease, debris, and tree roots. In most cases, a homeowner or a professional can remove a blockage using some simple techniques. For the most difficult clogs, hydro-jetting is the ideal solution, as it blasts even the most stubborn blockages away with pressured water.
While hydro-jetting is quick and effective, it must be done safely to avoid further damage or injury. At Bonney, our technicians are trained on how to properly hydro-jet pipes and avoid causing any damage to your plumbing system. All you have to do is contact us for hydro-jetting service, and we'll get your pipes cleared in no time.
Plumbing Products, Brands, and Rebates
If you're thinking about starting a new plumbing project, Bonney can provide you with the right product or tool for your needs. We also can give you advice on how to receive rebates and tax credits to keep your costs low. Whatever plans you have for your next plumbing project, call our experts today for guidance and advice on what you need to get the job done right.
Choose Bonney for Plumbing Services in Elk Grove, CA
When you need plumbing services near you in Elk Grove, turn to Bonney. Our team of plumbing experts can handle all your plumbing needs, from drain cleanings and hydro-jetting to water heater installation and pipe repair. Alongside offering a wide array of plumbing services, we provide multiple coupons and financing options to ensure any HVAC service you receive from us meets your budget.
If you have any questions or want to schedule an appointment, please contact us.