Air Conditioning Repair & Service Sacramento
Your AC Repair Specialist in the Greater Sacramento Area.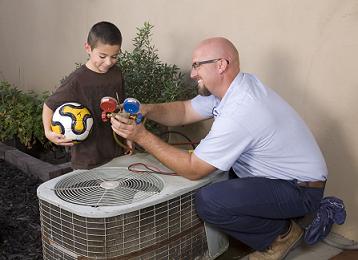 How do people keep their homes cool in the hot summer months?  Air conditioning of course!  You need comfort, reliability, and efficiency.  So, you don't sweat, your system doesn't break down and you save money!  Let Bonney take care of your air conditioning system!  Unsure about whether you need to repair or replace, then check here for details.
Reliability
Nothing is worse than your air conditioner breaking down in the peak of the Sacramento area heat.  Bonney installs all brands of new air conditioning systems including Rheem, Lennox and Trane. (Check out our New Systems page for more details.)  But, not everyone can afford a new system, and Bonney offers air conditioning repairs and maintenance to keep your air conditioner running all the time.  Whether we do a repair or install a new system, Bonney offers industry leading warranties to protect your investment, meaning peace of mind for you.
Comfort
New air conditioners provide more comfort than older ones.  Why?  First, variable speed fans in a Bonney air handler, or furnace, provide the right air flow, at the right speed, for maximum comfort.  Second, a new Honeywell zoning system can provide the right temperature, to the right room, at the right time.  Third, new thermostats, allow the control you need to keep your home at the temperature you want.  Portable, wireless controls, internet access and smart phone apps all provide unprecedented comfort options.  Fourth, new air conditioners are available in two stages, meaning high speed to cool your home quickly, or low speed efficiency when only a little cooling is needed.  It is like having two air conditioners in one providing maximum comfort.
Efficiency
An efficient air conditioner means money in your pocket.  A new air conditioner, packed with modern technology, is always more efficient than an old one.  New technology includes variable speed fans, two stage condensers, and fantastic thermostats!  But, simple things can be done to keep your current air conditioner at its peak!  First, try Bonney's Automatic Maintenance (BAM) Plan designed to keep your system running at maximum efficiency.  But, if you've let your system go too long with the wrong filter or just haven't changed it, your efficiency can drop substantially!  A layer of dust as thin as "Saran Wrap" on your evaporator coil can cut your air conditioner's efficiency by 22%!  Bonney's duct cleaning service includes equipment cleaning, so that your air conditioner can run as efficiently as possible, saving you money!
---
---
---
---
---
---