Bonney Plumbing Auburn & Meadow Vista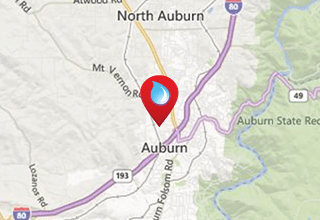 Auburn & Meadow Vista HVAC, Plumbing and Air & Water Quality Company
For Auburn, CA plumbing, heating and air conditioning service, installation or repair; Call on Bonney Plumbing, Heating, Air & Rooter Service.  We do it all!  From a clogged drain to a water heater replacement, the Bonney Brigade is here for you!  Bonney plumbing and HAVC experts are here to help the local community in Auburn, Meadow Vista, Applegate, Weimar, Christian Valley, Bowman, Dry Creek and the surrounding neighborhoods.
Call us today! 800-444-0551
Auburn Plumbing
Local Expert Plumbing Technicians
Bonney has been serving the greater Sacramento area, including Placer County, for over 30 years.  We have plumbers in Auburn, including in Old Town Auburn, Downtown Auburn and Bowman.  Need a plumber in Christian Valley?  Call on Bonney for all your plumbing needs including clogged drains, leaky water heaters or backed up sewer lines.  No job is too big or too small for the expert technicians at Bonney Plumbing.
Auburn Heating and Cooling
Piece of Mind to Heat and Cool Your Home
Is your heater not working?  Call on Bonney for heater repair or replacement.  Our technicians are NATE Certified, and ready to conquer all your heating and air problems.  We service, repair and install all brands of furnaces and air conditioners, including top brands Rheem, Lennox and Trane.  Prevent costly heating & air breakdowns with annual tune-ups. Get even more for your money with Bonney's Automatic Maintenance plan for $99 per year. Three tune-ups, discounted pricing and more!  Bonney's technicians are here to help!
We charge by the job, not by the hour, so you know the cost before we start.  Count on Bonney for all your plumbing, heating & air conditioning needs in Auburn & Meadow Vista.
Serving the Greater Sacramento Area, including Auburn & Meadow Vista Zip Codes: 95602, 95603, 95604, 95722, 95703 & 95736.
"I'm very pleased with Vitaliy's service, he was knowledge, explained everything with pictures and was all around very happy with is service. Vitaliy deserves 7 stars!!"
"I was very pleased with Brandon. He explained everything very well and was polite and courteous. He was a 10 out of 10 or even more!!"
"Just great at explaining everything. If 5 stars was expected from him, he gave 10. I live in an old house and even though at one point a part of my ceiling fell on him, he fixed that no problem while explaining everything. Very nice technician."
"Patrick did a fantastic job, he was very nice and got the job done!! I will call Bonney for all my future plumbing needs and is a very happy customer."
"Kirk did a great job explaining everything, friendly and knowledgable."
"thank you for the wonderful visit on 08/31 for my maintenance visit. I really think you're one of Bonney's biggest assets and just really appreciate how patient and understanding you are."
"Marvin Hendrickson of Bonney Plumbling ... was professional and friendly. Answered all my questions and fixed the problem. Thanks very much."
"WHAT A GREAT JOB ZACHARY DID TODAY. HE WAS VERY INSTRUCTIVE REGARDING ISSUES AND PROBLEMS TO BE ADDRESS FOR MY SYSTEM, HE WAS VERY THOUGHTFUL AND VERY CLEAR, HE KEPT MY FLOOR CLEAN WITH BOOTIES ON AND OFF, I DID HAVE ONE CONSTRUCTIVE CRITICISM THAT I ADDRESSED WITH TECH AND WAS VERY HAPPY THAT HE LISTENED AND HANDLED IT WELL."
"Dwayne did a great job! He explained everything even though he knew Bonney wouldn't be able to do the job. Gave us some ideas of options I could do on my own. He was dressed nicely and presented himself well."
"Jeremy did a good job and was a professional in his work. He answered my various questions as he proceeded with the job. he was on time, cleaned up everything, and was a good representative for BONNEY Plumbing."
"JOHN MARSHALL WAS SOO HONEST AND PLEASANT TO ME IN FEBRUARY THAT I NOW WANT TO GO WITH BONNEY FOR A NEW SYSTEM. I'M ASKING FOR JOHN!"
"Bonney representative (David Bradley) fulfilled Bonney's mailout offer for water heater service thoroughly and efficiently. He arrived early on the day of our call, took ample time to complete draining and cleaning, and assessed replacement needs and cost estimates without sales pressure. This service call was very helpful."
"Scott was incredibly thorough and I really appreciated that you explained everything that you were doing. I thought you were pleasant, efficient and very friendly."
"My visit was great, explained everything very well, Zach was professional and even showed pictures of the work. I received a 5-star experience!"
"I really enjoyed the visit. Great job on providing 5 star service Brandon!"
"what a great job Andrew and Jesus did today. They were very friendly and professional!"
"WONDERFUL SERVICE WITH BRITTANY. HAD NO COMPLAINTS SHE WAS FABULOUS."
"Nolan was excellent! Nolan was on time; professional, courteous, knowledgeable and all around a great technician. I couldn't be happier."
"Clinton went above and beyond and cannot remember a time that I was this happy with any service man/company!! Not only was he polite and professional, but he is also a genuinely good person!!"
"I was very happy with my service. My technician was a very polite young man who even threw her filter in the garbage and put her step ladder away."