New Exclusive Republic FC/Bonney Summer Scarves!
June 4, 2015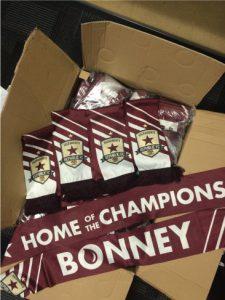 We are extremely excited to have our new Republic FC/ Bonney summer scarves. They have come in at exactly the right time, because it's definitely the beginning of summer now!
We have received a limited supply of these and they will not be sold. Fans will not be able to purchase these at the merchandise tables, nor will they see them on the Republic FC website. These scarves are exclusively for SRFC/Bonney Fans!
We will be sharing several opportunities to win these awesome scarves through our social media, monthly newsletters and at our booth. One way to get your hands on these is to participate in the #BonneySnapshot game day photo challenge. Each home game is a chance to play; a theme is posted on our social pages as well as in the game day program. Snap a photo, tag @MyBonney and #BonneySnapshot and you're automatically entered.
If you haven't already, go follow us on Instagram: MyBonney, Twitter: @MyBonney and like us on Facebook: /MyBonney.
Visit the Bonney Booth on match days to enter raffles, win prizes and collect player cards. See you at Bonney Field! (We're going to go put these scarves on now…be jealous!)
Bonney.com/game-day for continually updated information.