Employment with Bonney Plumbing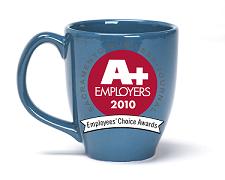 Bonney Plumbing, Heating, Air & Rooter Service is a fast paced, fun, equal opportunity employer dedicated to providing an environment where employees are challenged and encouraged to learn, grow and stay.
As a locally owned company we believe in giving back to the community and have built a company that employees are proud to work with. We are always looking for employees who share our core values and beliefs.
In the fall of 2010 we were rewarded with an A+ Employers Award from the Sacramento Business Journal for being the best place to work for in the Sacramento area, in the medium size business category.  This honor was awarded to us based on an anonymous survey of our staff, proving to us that Bonney really is a great place to work!  Click here for the A+ Employer article.
How to apply:
Visit our business office Mon – Fri between 9:00 a.m. and 4:00 p.m. to complete an application.
OR
Fax resume and cover letter to Human Resources at: (916) 520-7592
Email resume and cover letter to: hr@bonney.com
---
HVAC Jobs Sacramento
Looking for an experienced HVAC Service Technician with outstanding customer service skills and impeccable workmanship to join our team. Must have clean DMV.

---

Interested candidates should submit a resume via e-mail to: (hr@bonney.com)

*** Bonney Plumbing, LLC is an equal opportunity employer ***

Current opening for a talented Installer.  Must take pride in workmanship and be a strong team player.  Clean DMV required.

---

Interested candidates should submit a resume via e-mail to: (hr@bonney.com)

*** Bonney Plumbing, LLC is an equal opportunity employer ***
---
Plumbing Jobs Sacramento
Current opening for an experienced Plumbing/Drain Technician with Service and Repair experience.  Must have outstanding customer service skills and impeccable workmanship. Clean DMV required.

---

Interested candidates should submit a resume via e-mail to: (hr@bonney.com)

*** Bonney Plumbing, LLC is an equal opportunity employer ***
---
Office Jobs Sacramento
Rancho Cordova Corporate office

Come work for our company – voted Best Employer of The Year for 3 consecutive years!

Our business is growing and expanding. As a result of this growth, we have a unique Full Time opportunity for a dynamic individual with a strong piece rate pay or job costing background to join our team. We offer a friendly, professional, team-oriented work environment where employees are valued, appreciated and rewarded for top performance.

This position requires 3 to 5 years prior work experience in accounting with intermediate to advanced skills in Microsoft Excel. Previous experience in an industry utilizing field technicians, piece rate pay or job costing is strongly desired.

DUTIES AND RESPONSIBILITIES

The accounting assistant will review time-sheets and process payroll using hourly, piece-rate and straight commission calculations; enter financial data in Excel, produce financial reports, answer incoming phone calls and deliver a high standard of customer service.

We are looking for a positive, detail-oriented, self-starting professional with the ability to effectively navigate between payroll, accounting and customer service functions. Candidates must be organized, solution-oriented, energetic, and able to make quick, sound decisions. Strong analytic skills, attention to detail, and ability to grasp concepts quickly are a must.

This is a Full Time, benefited position.

MINIMUM SKILLS AND QUALIFICATIONS

3 to 5 years stable accounting work history; piece rate pay, job costing or field technician industry strongly desired;
Intermediate to Advanced Excel skills;
3 to 5 years customer service background
Typing skills: 65 wpm, minimum
10-key skills 10,000 KPH, minimum
Effective active listening skills and polished, professional telephone etiquette
Strong written and verbal communication skills, effective and proper use of the English language
Strong working knowledge of MS Word, Outlook, and Google Docs. Ability to learn new software.
Excellent attendance, punctuality and ability to adhere to work schedules and work processes.

COMPENSATION

$15 – $17 per hour, depending upon experience
100% Company-paid health and dental insurance for employees and their dependents
Paid Vacation, Paid Holidays, 401(k), Direct Deposit options
Professional work atmosphere, where employees are appreciated and top performance is rewarded

---

Interested candidates should submit a resume via e-mail to: Bonney HR (hr@bonney.com)

*** Bonney Plumbing, LLC is an equal opportunity employer ***