Employment with Bonney Plumbing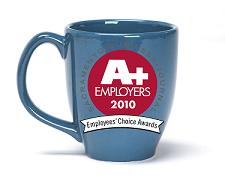 Bonney is a fast paced, fun, equal opportunity employer dedicated to providing an environment where employees are challenged and encouraged to learn, grow and stay.
As a locally owned company we believe in giving back to the community and have built a company that employees are proud to work with. We are always looking for employees who share our core values and beliefs.
In 2010, we were rewarded with an A+ Employers Award from the Sacramento Business Journal for being the best, medium size business, place to work for in the Greater Sacramento area.  Since then, we have been nominated by our employees for three consecutive years. This honor was awarded to us based on an anonymous survey of our staff, proving to us that Bonney really is a great place to work!  Click here for the A+ Employer article.
How to apply:
Visit our business office Mon – Fri between 9am and 4pm to complete an application OR fill out the application here »
---
HVAC Jobs Sacramento
Looking for an experienced HVAC Service Technician with outstanding customer service skills and impeccable workmanship to join our team. Must have clean DMV.
Current opening for a talented Installer.  Must take pride in workmanship and be a strong team player.  Clean DMV required.
---
Office Jobs Sacramento
Growing plumbing, heating, air conditioning and drain cleaning company is expanding and we're looking for a FULL TIME CUSTOMER SERVICE PROFESSIONAL with typing skills of 65 wpm and strong team player skills join our team.
This position plays an important role in the day-to-day operations for Bonney Plumbing, Heating, Air and Rooter Service. This position assists our customers and field service technicians on a daily basis and makes outbound calls to customers to follow up on their service experience.
Prior experience in telephone sales is highly desired. Outstanding communication skills, organization skills and quick, accurate decision making skills are critical. This position works closely with field technicians and our Marketing Department.

Our company has been recognized as one of The Best Places to Work, in the Greater Sacramento Area three years in a row. Our work environment is friendly, professional and can be fast-paced. Quick learning and comprehension are a must.
Prior customer service, telephone sales and marketing support in residential plumbing, drain cleaning, HVAC or home improvement would be considered a plus. Candidates must have flexibility to work evening and weekend shifts.
We offer competitive pay and a positive, professional work environment. Bi-lingual skills are desirable but are not required.
ESSENTIAL FUNCTIONS / KEY RESPONSIBILITIES:
Type 65 wpm minimum. Accurately enter information on a computer keyboard while speaking with customers on the phone
Must be able to remain focused on work tasks and customer needs with positive results amid interruptions and distractions
Communicate tactfully and professionally with customers and co-workers
Develops rapport and builds trust by communicating with confidence and openness
Demonstrates analytical skills to resolve scheduling conflicts with attention to detail
Demonstrates ability to manage two or more tasks and sources of information at one time
Computer Skills -practical knowledge of Microsoft Suite, and ability to learn new software
SALARY: $14.00 - $16.00 per hour, depending upon experience
View this on ZipRecruiter: https://www.ziprecruiter.com/quiz/job-description/2fb22d4b
This position is full time and will report to the Controller in our corporate office. Work schedule flexibility is required during payroll processing and month-end close.
Responsibilities to include:
Assist with preparation of financial statements within closing deadlines
Maintain reconciliations for all balance sheet accounts
Prepare accruals and related reconciling schedules
Assist with oversight of accounts payable process
Assist with oversight of accounts receivable process
Review and approve payroll for all divisions
Initiate ACH payments
Manage and oversee timekeeping system
Supervise payroll / accounting staff
401(k) plan deferrals, matching, and reconciliations
Daily revenue reporting
Additional financial analysis as required
Skills and Attributes Desired:
Ability to multi-task and manage multiple projects at once
Strong attention to detail
Ability to meet deadlines and work under pressure in a fast paced environment
Advanced working knowledge of Quickbooks, use of filters, multiple classes, and job costing
Intermediate / advanced Excel user
Ability to work with multiple software platforms
Extensive knowledge of payroll reporting requirements
Construction or trade industry experience preferred, but not necessary
Experience with job costing and inventory a plus
Experience with piece-rate pay structures a plus
Strong communication skills, both written and verbal
Outstanding customer service, coaching and training skills
Salary will be commensurate with experience.
Benefits include company sponsored medical and dental insurance and 401(k) plan with employer paid match, paid holidays, paid vacation.
---
Plumbing Jobs Sacramento
Bonney Plumbing is looking for career-minded, Master Plumbing Technicians with Residential Service and Repair experience who take pride in their workmanship and have outstanding customer service skills.
Enjoy company-paid health insurance, steady work, a positive and professional work atmosphere, and ongoing training.
REQUIREMENTS:
Must take pride in workmanship, have good communication skills, legible handwriting and be organized
Enjoy solving problems and helping people
Must be self-starters with excellent customer service skills
Residential service and repair and light commercial plumbing experience
Clean DMV and valid driver's license
Ability to lift and carry 75 lbs., climb stairs and ladders, kneel, crawl under houses and in attic spaces, kneel, stoop, bend and twist at the waist
BENEFITS:
On-board work inventory
100% company-paid health insurance premiums for employees, spouses and children
Paid vacation
Paid holidays
Company-paid uniforms and weekly uniform service
Company fuel cards
Company cell phone with data plan
Company credit card
Fleet vehicle
Direct deposit options
Tool Purchase Program
401(k) plan and company matching
Drug-free work environment.
We offer a positive, professional work environment where employees are highly valued, respected and rewarded for top performance.
Bonney Plumbing, Heating & Air is looking for talented plumbers with New Construction Plumbing, Rough, Finish and Top-Out Experience to join our team. THIS IS AN AMAZING CAREER OPPORTUNITY FOR NEW CONSTRUCTION PLUMBERS TO LEARN SERVICE AND REPAIR PLUMBING. We are a busy service and repair company located in Rancho Cordova, CA. We are growing and expanding and we are looking for a few professional, career-minded new construction plumbing professionals to grow with us. There is no better time to join our company, as we have plans to triple the size of our company over the next four years.
Work Culture:
Our work culture is positive and professional. Our employees are valued, respected, and rewarded for top performance.
Requirements:
Clean DMV
Pride in workmanship
Strong problem-solving skills, mechanical skills and organization skills
Polished customer service skills with fluency in the English language and legible handwriting
2 years new construction plumbing experience and/or 2 years service and repair plumbing experience
Career-minded, with a desire to learn
Benefits:
Stable employment
Ongoing training
Health Insurance. We pay 100% of the health insurance premiums for our employees AND their dependents. Our employees have zero payroll deduction to participate in our health plan.
Quality fleet vehicles
On-board work inventory
Weekly company-paid uniform service
Tool purchase program
Company fuel card
Company credit card
Company Cell phone and media plan
Direct deposit options and a positive, professional work environment
401(k) plan
Paid vacation
Paid holidays and other perks!
Current opening for an experienced Plumbing/Drain Technician with Service and Repair experience.  Must have outstanding customer service skills and impeccable workmanship. Clean DMV required.